(NASDAQ:MITK) Mitek Systems creates applications and programs for mobile banking services. Because of Mitek Systems, a person with an iPhone can take a picture of a check and have that check be deposited to their checking account automatically. Consumers and the banking industry are just beginning to realize the economic advantages of mobile banking technologies.
A recent research report from AlixPartners, LLP, "Consumer Market Outlook for Mobile Photo Bill Pay," examines the current trends in the payments market. The report forecasts that mobile photo bill pay adoption could reach 33% among adult U.S. Consumers by 2018 and result in 1.4 billion bills migrating to the mobile payment channel. Big banks did not get big by missing out on consumer trends. The banking industry has already noticed that consumers want to waste less time when they are banking. Remote banking is a way which banks can meet customer demand for less banking transaction time, and increase company margins. The ATM revolutionized the way people bank; why should remote banking be any different?
Year-to-date:
S&P 500: 9.61%
Financial Sector (NYSEARCA:XLF): 14.53%
JPMorgan (NYSE:JPM): 23.29%
Oracle (NYSE:ORCL): 17.47%
Mitek (MITK): 67.51%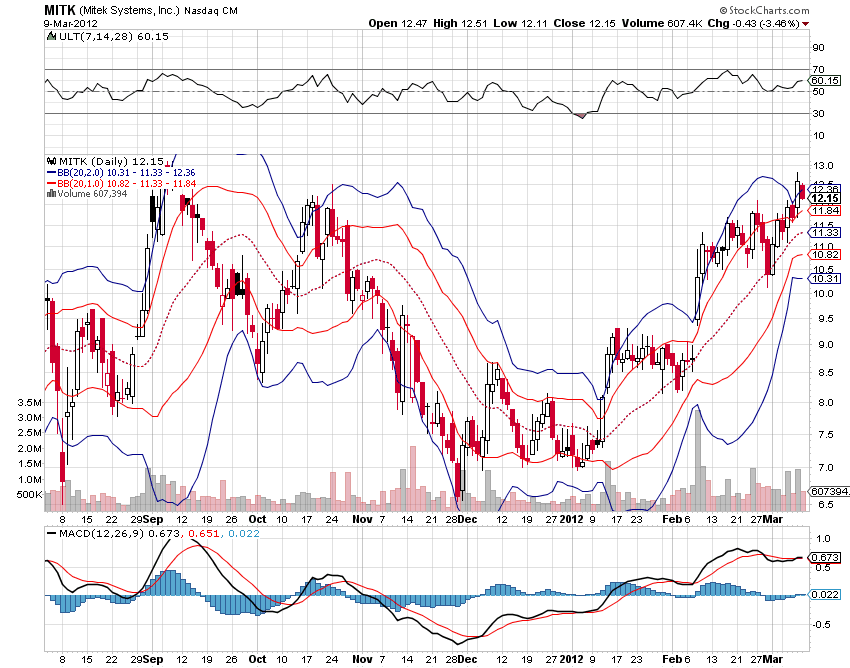 Company Highlights
First quarter 2012 revenue increased 151% over the first quarter of 2011
First quarter 2012 gross margin was 91%
Signed 250 financial institutions cumulative through December 31, 2011
56 customers launched Mitek Mobile Deposit® cumulative through December 31, 2011
Announced Mobile Deposit 3.0 during the first quarter of 2012
E*Trade launched a mobile check deposit app on the Ipad in February
Positive net profit in the first quarter of 2012
Brad Strothkamp, VP, principal analyst, eBusiness and Channel Strategy, Forrester Research, stated in his report on US Mobile Banking that:
After several years of technology-driven expectations, mobile banking is finally seeing sustained traction in the U.S., and banks have rolled out support broad enough to enable consumers with nearly any mobile device to access basic banking functionality. ... As consumers gain confidence with the channel, their needs are shifting from simple functionality like account balances and ATM locators to transactions like bill payment and account transfers.
The transfers which Mr. Strothkamp is referring to, are those 1.3 Billion bills which were protected to be paid online by 2018. These transfers could mean big bucks for companies in the remote banking sector, such as Mitek. A larger market can also mean increased competition from rivals. If the remote banking market proves to be large enough, it may attract the attention of larger information technology companies such as Microsoft (NASDAQ:MSFT) and Oracle.
MITK has a bright future in the short-to-near-term. In the short-term, the stock is a technical upswing. If Mitek or the remote banking industry receives positive news, there is potential for Mitek to break-out of resistance levels. In the near-term, 1 to 3 years, Mitek is well positioned to take advantage of their growing industry. I am unsure about Mitek's long-term prospects. Until Mitek can post consistently strong profits, I would not suggest investing in them long term.
Trade Suggestions:
1) Long Synthetic Straddle. For an investor who believes in MITK's near-term time horizon (1 - 5 years) and agrees with the remote banking trend which I have argued for above:
- Buy 100 shares of MITK
- Buy 2 long calls
Break-Even: $12.72
Cost: $1,814.50
Benefits:
- Can be turned into a covered call position if the trend stalls
- Reduced time-decay
- Hedged Risk
2) Long Bull Call Spread. For an investor who does not want to hold the position for more than a year. Initiate this position when stock moves to or below the $11.10
- Buy JUL12 Long Call @ $10
- Sell JUL12 Long Call @ $12.5
Break-Even: $11.10
Risk: $110
Max Reward: $140
Risk to Reward: 127.27%
Benefits:
- Limited Risk
- Potential to roll the position up
Something to think about: There is also the long term potential of completely internet based banks. Look out for the reemergence of completely digital, online banks. It has already happened to the insurance, financial, and accounting world.
Disclosure: I have no positions in any stocks mentioned, but may initiate a long position in MITK over the next 72 hours.