Midstream Companies And The Fuel Of The Future
Summary
Hydrogen is the fuel of the future. The most practical way to transport it is via existing natural gas midstream infrastructure.
This would work by blending up to 15% hydrogen with natural gas, analogous to corn-ethanol being blended with gasoline.
Thus, existing natural gas midstream assets owned by the likes of MPLX LP, Enterprise Products Partners, Kinder Morgan, and Energy Transfer would benefit from ongoing demand and extended useful lives.
The recent combination of Spartan Energy Partners (private) with CSI Compressco (CCLP) is our favorite high risk/reward way to invest in this opportunity.
This idea was discussed in more depth with members of my private investing community, Cash Flow Kingdom. Get started today »
Note: This article was produced together with Darren McCammon.
Think hydrogen is the fuel of the future? Maybe that future isn't as far away as you think, as we will lay out in this macro-focused report.
Hydrogen gas is seen as one of the main technologies that could result in lower CO2 emissions in the future, thus the technology has a lot of potential in combating climate change. Hydrogen gas is, however, not as easy to handle as some types of other fuels.
Hydrogen is, at least on this planet, gaseous at normal temperatures. Research indicates hydrogen can be incorporated into existing natural gas systems at concentrations up to 15%, with only minor system modifications. Thus, hydrogen might eventually be to natural gas what corn-based ethanol is to gasoline; an additive that is transported in combination utilizing existing infrastructure. Recently, BTU Analytics noted:
"...eleven power plants around the US that have announced they plan to use a hydrogen/natural gas blend or pure hydrogen, and given the ESG movement's momentum, we are likely to see more. This creates opportunities for pipelines to help transport a carbon-free fuel and help off-takers meet climate and emissions goals..."
This has obvious implications for the ongoing usefulness and demand for existing midstream energy infrastructure.
Existing pipelines and LNG ships are the most practical way to transport hydrogen (as an additive) from the site of production to end-users. Furthermore, it should be noted that existing petroleum refineries and chemical plants on the Gulf Coast and other recipients from major pipelines already use hydrogen in their processes. In fact, 95% of industrial hydrogen is made from natural gas via a process called steam reforming. Unfortunately, steam reforming of natural gas, while cost-effective, also produces carbon as an unwanted byproduct. Thus, the hydrogen that results from steam reforming is commonly referred to as grey or dirty hydrogen. Capturing this carbon emission results in cleaner "blue hydrogen". However, this process is more costly, and the end result is only considered somewhat more preferable by the environmentally concerned. There is however another method of producing zero-emission "green hydrogen," called hydrogen electrolysis.
In its most environmentally friendly form, hydrogen electrolysis is a method whereby solar or wind power is used to produce electricity that in turn is used to reduce water (H2O) or Hydrogen Sulfide (H2S) into its component parts.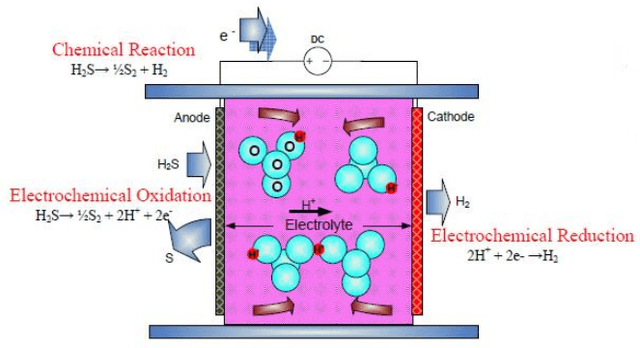 Source: Feasibility study by Keilir Research Center and University of South Florida
These component parts are energy-rich hydrogen, and either oxygen or sulfur. The hydrogen can then be reintroduced back into the natural gas stream for transportation to end-users, creating what we will call CHG, 'clean high-grade' natural gas (85% Natural Gas with sulfur removed + 15% Green Hydrogen; marketers will likely develop a better name, but you get the idea).
Hydrogen electrolysis using H2O gets more press, but 20% of the energy value is lost in the existing process and it can be 6x - 10x as expensive as processing natural gas. Hydrogen electrolysis using H2S is both cheaper and more efficient than using H2O, and importantly, both the hydrogen and sulfur byproducts can be sold. Additionally, H2S is a dangerous, poisonous, and corrosive component of natural gas. So, its removal from the natural gas stream has value to end-users and society in general, such as less acid rain.
Electrolyzing the H2S that already exists in the natural gas stream, therefore, seems a better and more practical alternative than electrolyzing H2O. It's less costly, produces more valuable byproducts, and yields a cleaner, less toxic, and more energy-rich source of power. However, at least for now, hydrogen as a type of fuel via H2S electrolysis is still going to be more expensive than burning pure natural gas and letting the resulting pollutants vent. Thus, while promising, adoption would probably require some form of direct or indirect subsidization.
Logistically, how would this technology be incorporated into existing midstream infrastructure? A compression station along a pipeline seems to be the logical location to place hydrolysis equipment, potentially with solar or wind power infrastructure located nearby to power the equipment.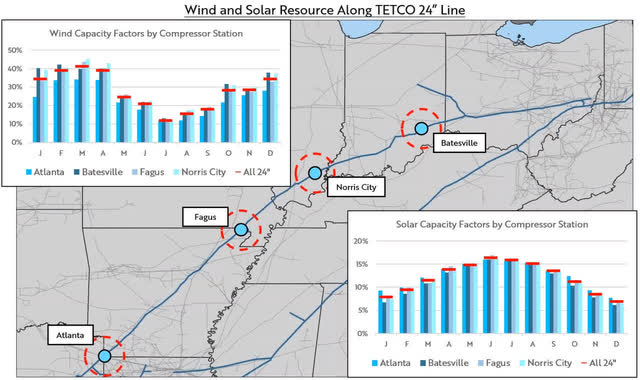 Source: BTU Analytics presentation on co-locating hydrogen electrolyzing equipment at compressor stations with wind and solar nearby.
These locations already have access and are sited for industrial equipment, and they already have valves and piping in place for handling the natural gas streams. They also already receive regular maintenance visits and tend to be located away from residential, retail, and educational establishments. Thus, existing natural gas midstream infrastructure may not only be the most practical future hydrogen midstream infrastructure, but the compressor station locations may be the best places to produce and inject green hydrogen into the stream.
What This Could Mean For Select Midstream Companies
Some of the natural gas midstream names we follow, including Williams (WMB), MPLX LP (MPLX), Enterprise Products Partners (EPD), Kinder Morgan (KMI), and Energy Transfer (ET), would benefit from the extended useful lives of their assets. The longer their pipes remain in use, the higher the cash flows these assets will ultimately generate. Since they have already been built, costs for keeping them in place for some additional years are low, thus this would result in very valuable, high-margin revenue in the future.
This, combined with a general realization that these firms could be a part of the solution to global warming, rather than the cause of the problem, may also eventually lead to increased investor interest and multiple expansion.
Indeed, if you ask us, those worried about climate change should be embracing natural gas/hydrogen pipelines instead of opposing them. Natural gas, overall, is much cleaner than coal and oil, and adding in hydrogen makes the technology even more valuable. Maybe, one day, more investors will come to that conclusion, which could result in more appreciation for these stocks, which could result in ample multiple expansion. After all, many pipeline stocks are trading at very inexpensive valuations, especially when compared to the broad market.
In the meantime, the combination of Spartan with CSI Compressco (CCLP) into a firm we'll call Spartan Energy Solutions is one of Cash Flow Kingdom's favorite high risk/reward ways to invest in the opportunity. This holds true even after the strong gains CCLP has experienced over the last couple of months.
One Last Word
If you found this article interesting or helpful, it would be greatly appreciated if you "Follow" me by clicking the button at the top, or if you "Like this article" below, as this will help me in building an audience and continuing to write on SA. If you want to share your opinion or perspective, you are also very welcome to comment below. Happy investing!
Is This an Income Stream Which Induces Fear?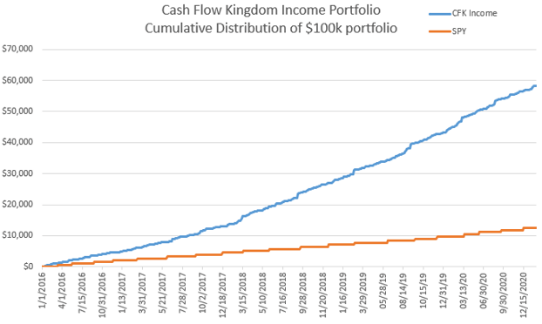 The primary goal of the Cash Flow Kingdom Income Portfolio is to produce an overall yield in the 7% - 10% range. We accomplish this by combining several different income streams to form an attractive, steady portfolio payout. The portfolio's price can fluctuate, but the income stream remains consistent. Start your free two-week trial today!
This article was written by
Jonathan Weber holds an engineering degree and has been active in the stock market and as a freelance analyst for many years. He has been sharing his research on Seeking Alpha since 2014. Jonathan's primary focus is on value and income stocks but he covers growth occasionally.
He is a contributing author for the investing group
Learn more
.
Analyst's Disclosure: I am/we are long EPD, ET, AROC, KMI. I wrote this article myself, and it expresses my own opinions. I am not receiving compensation for it (other than from Seeking Alpha). I have no business relationship with any company whose stock is mentioned in this article.
Seeking Alpha's Disclosure: Past performance is no guarantee of future results. No recommendation or advice is being given as to whether any investment is suitable for a particular investor. Any views or opinions expressed above may not reflect those of Seeking Alpha as a whole. Seeking Alpha is not a licensed securities dealer, broker or US investment adviser or investment bank. Our analysts are third party authors that include both professional investors and individual investors who may not be licensed or certified by any institute or regulatory body.