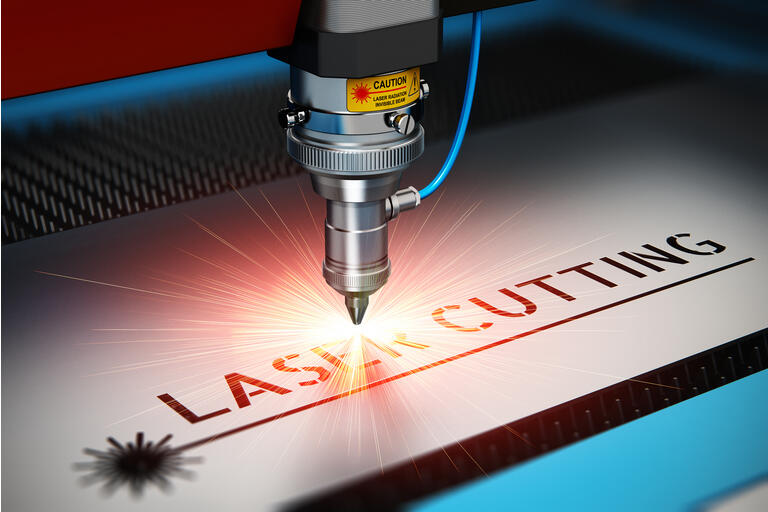 The latest numbers from IPG Photonics Corporation (NASDAQ:IPGP) don't seem all that bad. Revenue and EPS, for instance, grew by 25.4% and 81.7% respectively in Q2. However, the stock collapsed after the release of the Q2 report with China playing a key role. IPGP has lost a third of its value since it peaked earlier in the year. Some may see this as an opportunity to get in at a lower price, but that may not be such a wise move. Why, will be covered next.
IPGP is still growing strong
One of the reasons why some may be interested in IPGP is that the company is still growing strong. Q2 revenue increased by 25.4% YoY to $371.7M and EPS increased by 81.7% to $1.29 after margins improved by several hundred basis points. These numbers are nothing to sneeze at, but they're also at the lower end of guidance and they missed consensus estimates.
Note that Q2 FY2020 was adversely impacted by a foreign currency loss of $12.8M, but the impact was reduced to just $2.8M or $0.04 per share in Q2 FY2021, skewing the YoY comparisons. If exchange rates had remained unchanged versus a year ago, Q2 revenue and gross profit would drop by $23M and $13M respectively. In other words, most of the sequential growth in revenue was due to forex.
Q2 FY2020 also had to deal with a charge of $1.2M for the impairment of long-lived assets and other restructuring charges. In contrast, Q2 FY2021 had none, further skewing the YoY comparisons in favor of the latter. While the headline numbers look good from a YoY standpoint, they become less so upon closer inspection. The table below shows the numbers for Q2 FY2021.
| | | | | | |
| --- | --- | --- | --- | --- | --- |
| (GAAP) | Q2 FY2021 | Q1 FY2021 | Q2 FY2020 | QoQ | YoY |
| Revenue | $371.658M | $345.585M | $296.411M | 7.54% | 25.39% |
| Gross profit | $180.528M | $163.991M | $136.449M | 10.08% | 32.30% |
| Gross margin | 48.6% | 47.5% | 46.0% | 110bps | 260bps |
| Operating margin | 24.8% | 25.7% | 15.9% | (90bps) | 890bps |
| Operating income | $92.252M | $88.842M | $47.209M | 3.84% | 95.41% |
| Net income | $69.800M | $68.127M | $38.226M | 2.46% | 82.60% |
| EPS | $1.29 | $1.26 | $0.71 | 2.38% | 81.69% |
Source: IPGP Form 8-K
In terms of performance by region, China led the way once again by accounting for $159M or 42.8% of quarterly revenue. However, revenue from China increased by just 9.5% YoY, much slower than before even though it's true that comps affected the numbers. Japan remained weak with a decline of 29.7% YoY to $10.3M. On the other hand, Europe grew by 49.7% YoY to $96.1M and North America grew by 22.7% YoY to $66.1M. Note that the last two benefited from a lower base.
Guidance was a letdown. The forecast calls for Q3 FY2021 revenue of $350-380M, an increase of 14.6% YoY at the midpoint, but down 1.8% QoQ. The forecast also sees EPS of $1.10-1.40, an increase of 89.4% YoY at the midpoint, but down 3.1% QoQ. Keep in mind that Q3 FY2020 was the last quarter in which sales contracted YoY, which means comps will no longer be so favorable for IPGP as it has been in recent quarters.
| | | | |
| --- | --- | --- | --- |
| | Q3 FY2021 (guidance) | Q3 FY2020 | YoY (midpoint) |
| Revenue | $350-380M | $318.4M | 14.64% |
| EPS | $1.10-1.40 | $0.66 | 89.39% |
Source: IPGP
Guidance was weaker than expected, which is why IPGP added some color as to the reasons why. There were several factors involved. Supply chain constraints, for instance, resulted in $7-10M less revenue in Q2 and that's expected to continue. From the Q2 earnings call:
"For the third quarter of 2021, IPG expects revenue of $350 million to $380 million, which implies a 15% year-over-year growth at the midpoint despite more difficult third quarter year-over-year comparisons, softness in the cutting market in China and ongoing supply chain constraints."
A transcript of the Q2 FY2021 earnings call can be found here.
IPGP sees headwinds gathering strength in China
But the big story in the earnings call was China. Growth has been coming in strong lately, but it wasn't that long ago that IPGP suffered from shrinking sales. Revenue declined YoY for nine consecutive quarters starting in Q3 FY2018. A key reason why this happened was because of weakness in China as covered in an earlier article. The numbers have been better lately and China played a key role in all of this.
However, there were those who believed that China could turn from a tailwind into a headwind as explained in a previous article. The latest numbers may be a sign that is exactly what is happening. Nevertheless, the latest updates from IPGP concerning China still came as a surprise. It's true that IPGP never claimed everything was perfect in China, but the degree to which management seems to have soured on the market in China was discouraging to see, especially since China was arguably the main reason why the numbers have improved so much in recent quarters.
Management raised a number of issues with regard to China. Demand softened for several reasons. General economic conditions was one with the Chinese economy not as strong as before. Another was the push on the part of the Chinese government to buy locally from domestic companies, which puts IPGP at a disadvantage against local competitors. But the most worrying was the possibility of increased competition leading to what could amount to a price war, which has the potential to hurt earnings for an extended period of time.
"Pricing - some of the competitors are introducing product at higher power levels and trying to get into that ultra-high power market. So 12-kilowatt lasers even. And certainly the only way they can compete is on pricing. So what we call the low end of the market not just on power, but really on pricing is moving up into higher power levels and impacting or reducing pricing there."
IPGP mentioned how competitors in China are not only targeting the low end of the market, but also the high end of the market. While IPGP is confident that it has the edge in terms of the quality of its products, the concern is that stiff competition will either force IPGP to lower prices in order to compete or risk ceding market share to the competition. Margins and earnings will be hit in either case. It's worth noting that growth in Q2 was driven by increased unit shipments. Unit prices declined YoY, although by a small amount.
The stock falls down
The stock fell 18% in response to the latest outlook from IPGP. The stock was up 16% at one point in 2021, but it's now down 23% YTD. The stock is 33% off its highs. The chart below shows how IPGP has trended lower in a channel bounded by a series of lower highs and lower lows after a strong start to the year. A bounce is possible at this point after the big drop, so some may want to go long at this point. But as long as the channel remains intact, the stock is still in a downtrend. Anyone going long probably shouldn't remain so for too long.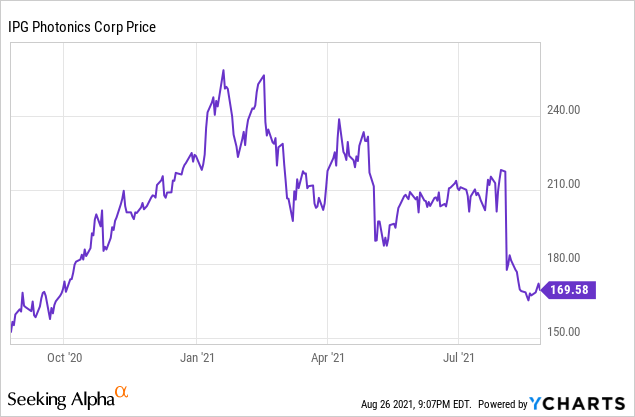 Another side effect of the big drop is that multiples have come down. The table below shows the multiples for IPGP. For instance, IPGP trades at 28 times forward earnings with a trailing P/E of 42. Its enterprise value of $7.7B is roughly equal to 18 times EBITDA. While these multiples are much lower than where they used to be earlier in the year, they're not exactly a screaming buy considering the fact that growth at IPGP is slowing down and could even reverse gears.
| | |
| --- | --- |
| | IPGP |
| Market cap | $9.21B |
| Enterprise value | $7.66B |
| Revenue ("ttm") | $1.37B |
| EBITDA | $417.07M |
| Trailing P/E | 41.67 |
| Forward P/E | 27.90 |
| PEG ratio | 0.83 |
| P/S | 6.71 |
| P/B | 3.40 |
| EV/revenue | 5.58 |
| EV/EBITDA | 18.37 |
Source: Yahoo Finance
Investor takeaways
There are some arguments to be made for long IPGP. The stock got ahead of itself in early 2021, a year after it rallied 58% in 2020 with the company returning to growth in the fourth quarter. Yet revenue and earnings still contracted despite the rally in 2020. It was anticipated that IPGP had a lot of catching up to do after contracting for nine consecutive quarters. Industry acquisitions also led to speculation that helped boost the stock.
The stock reached a high in 2021 that it last saw in 2018, even though revenue and earnings are still nowhere near as good as back then. Multiples got up there with the stock soaring higher, but the recent selloff has made them more reasonable, even if IPGP is not really a bargain. Revenue and EPS are still growing at a strong pace with increases of 25.4% and 81.7% YoY in Q2. The recent drop means that IPGP is available at a lower entry point than before.
However, there's a reason why the asking price was reduced. Growth is slowing down and that's likely to continue with IPGP no longer benefiting from favorable comps. It's not clear if IPGP has hit bottom. China provided a big boost in recent quarters, but things are slowing down over there for several reasons. The last time something similar happened, IPGP spent a couple of years in purgatory.
The last few quarters have been better with China making a positive contribution, but it's worth asking what things will be like if that's no longer the case. Recent history shows that growth in other markets can compensate to a certain extent, but not completely. The stock is likely to continue to get whipsawed by China, depending on whether the news is positive or negative. That is, until the day comes that IPGP finds an alternative to China.
The question mark is how intense the competition could get for IPGP. While it may be true that Chinese companies are not yet capable of matching the quality of IPGP as the company insists, it's not necessary for them to take away market share from IPGP and cause the numbers to go down. There are already some signs that IPGP is seeing pricing pressure. The numbers still looked good for the most part, but there was a slight deterioration to be spotted in the numbers, which may be a taste of what's to come.
I am neutral on IPGP. It may be tempting to think of IPGP as a bargain at this point. The stock was after all trading at much higher levels earlier in the year and it's now roughly a third off its highs. Going long after the recent drop may pay off for the nimble trader who knows when to get out. But others may conclude that IPGP is seeing fundamental changes that do not bode well for continued strong gains in revenue and earnings, even if the numbers are still okay for the most part.
IPGP relies on the Chinese market to a great extent, which means its fortunes can rise and fall depending on what happens over there. For an investment to grow in the long run, there has to be growth in the top and bottom line. It's difficult to do that on a sustained basis when IPGP's biggest market by far is showing every intention of making sure that it does not remain the biggest market forever for IPGP. Odds are IPGP has not yet seen the last of the bad news. The stock is in a downtrend. It may go up within the channel, but that does not mean the direction of the channel is not down.