Types Of Mutual Funds: 6 Common Types
A mutual fund is a managed investment portfolio that pools together funds from various investors to build a portfolio that's aligned with the fund's stated objectives, which can be found in a fund's prospectus. A mutual fund can buy various types of securities. Types include money market funds, stock funds, bond funds, and target date funds.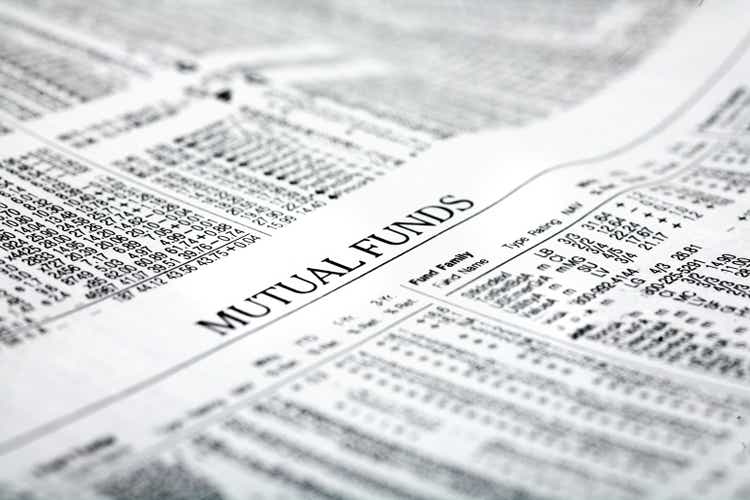 Different mutual funds have different risk makeups, by investing in a combination of different securities.
Mutual funds are usually open-end funds, meaning that there is no limit to the number of shares/units that it can issue. Unitholders can transact directly with the mutual fund sponsor to increase or decrease their holdings. Investors can buy funds that best fit their specific investment objectives, and can make a lump sum investment or dollar cost average to slowly acquire more shares over time.
Common types of mutual funds include:
Money Market Funds
Money market funds are conservative portfolios of short-term debt, cash, and cash equivalents. These funds often purchase U.S. Treasury bills and high-grade commercial paper. They can also invest in short-term debt issued by federal, state, and local governments.
Typically money market funds aim to maintain a
net asset value ((NAV))
of $1 per share, while paying out some amount of accrued interest to fundholders. Many investors use money market funds to park cash before deploying it into other investments, or personal expenditures.
If the fund's value falls below $1 NAV, this means that the investment income of the fund is not exceeding the operating expenses. This is a rare situation known as "breaking the buck" and suggests that the fund wouldn't be able to meet all redemption requests at a $1/unit value. When this happens, regulators may involve themselves to force the fund's liquidation.
Money market funds are classified by the assets they purchase:
Prime money fund: Invests in non-Treasury assets such as floating-rate debt issued by corporations, U.S. government agencies, and government-sponsored enterprises (GSEs)
Government money fund: Invests almost exclusively in cash, government securities, and fully collateralized repurchase agreements
Treasury fund: Invests almost exclusively in U.S. Treasury assets such as Treasury bills, Treasury bonds, and Treasury notes. The fund may also carry cash.
Tax-exempt money fund: Invests primarily in short-term municipal bonds and other debt securities. Earnings are federally tax-free and may be free of state taxes depending on the underlying assets and the state the investor lives in.
Tip: Investors often use money market funds to park cash before making a future investment or personal expenditure (such as buying a house).
Bond Funds
A bond fund is a type of mutual fund that invests in fixed-income such as corporate, municipal, government, or convertible bonds. Bonds tend to be more conservative investments than stocks, sitting higher in the liquidation chain than stocks. The goal of most bond funds is to generate income through investing in a portfolio of bonds that meets the investment objectives stated in the prospectus.
A bond fund generates income by collecting the interest payments and distributing them to the bond fundholders. A bond fund's NAV will also increase or decrease in value as the market prices of the bond holdings change. Bond funds tend to fluctuate less in value than stock funds, adding to the conservative nature of the investment.
Bonds, and bond funds, generally suffer price declines from increases in interest rates, while the value of bonds increases when interest rates decline.
The expense ratios of most bond funds range from 0.50% to 1.70%. The expense ratio covers portfolio management fees, marketing expenses, and administrative costs.
The types of bond funds that you can purchase are:
Investment grade funds: invest in high-quality bonds rated by bond rating agencies as "investment grade." These include government bond funds, inflation-protection funds, mortgage-back bond funds, and investment-grade corporate bond funds.
High-yield funds: invest in lower-quality bonds that tend to be riskier but also higher yielding. Bonds that are not investment-grade are nicknamed "junk bonds". Junk bonds expose investors to more volatility, so investors in high-yield funds should be prepared for the NAV to fluctuate more than investment grade funds.
Multisector funds: offer the widest span of taxable bonds that generally target a specific time horizon. Bonds from different sectors will be selected in an attempt to achieve the best results. Multisector funds can hold Treasuries, investment grade corporate bonds, or high-yield bonds. Whether the fund is conservative or aggressive will be determined by the mix of investment grade bonds and high-yield bonds.
Municipal funds: are allocated conservatively in municipal bonds that are designed to provide tax-efficient income for investors. Municipal bonds, often categorized by state, give investors the full benefits of tax breaks. Municipal funds are often referred to as "tax free" but that is not entirely correct since the sale of a bond for a profit, or capital gains on the fund NAV, can yield tax liabilities. The income generated within in the fund, however, would be tax free for those living in the state where the bonds are purchased.
International/Global funds: are slightly higher risk bond funds that invest in taxable bonds issued by foreign governments and corporations. International bond funds are used by investors to diversify their portfolio by spreading interest rate and economic risk factors across a broader set of investments.
Stock Funds
A stock mutual fund invests in equities from U.S. and international corporations. Typically stock investments and bond investments serve different objectives. Stock funds aim to grow assets over time and usually invest from a long-term perspective. Because the aim of the stock fund is growth, it's NAV will often fluctuate substantially.
Investors can control some of the risk by investing in stock mutual funds with more conservative investment objectives. For example, a fund investing in Dow Jones Industrial stocks may experience less volatility than a fund investing in tech startups.
There are various types of stock mutual funds:
Growth funds: aim to grow assets by investing in common stocks of growth companies where no dividends are typically paid. Even growth funds can vary substantially in risk. For example a large cap technology fund may be less volatile than a small cap international growth fund.
Income funds: invest primarily in large cap stocks that pay a regular dividend. Investors can usually choose to have dividends paid out to them or reinvested in the purchase of additional shares of the mutual fund. This type of stock fund is usually considered more conservative than growth funds.
Index funds: invest in stocks to mimic a specific market index. For example, an S&P 500 Index fund will buy stocks to track the performance of that index.
Sector funds: focus the investments into a particular segment or industry. For example, an investor may want to buy a fund that only invests in green energy companies. This gives them the broadest diversification of an industry that they see tremendous growth or stability in.
Balanced Funds
Balanced Funds can invest in a mix of stocks, bonds, and other investments. Some balanced funds have a targeted allocation like 60% stocks and 40% bonds (60/40), and may rebalance frequently to maintain this ratio. Other balanced funds are more actively managed, with the fund manager given the discretion to vary the percentage allocation to stocks and bonds based on their economic and market outlooks.
Target Date Funds
Target date funds can also contain a mixture of stocks and bonds, and invest on the basis of an investor's intended redemption date which may correspond with their retirement, the expected purchase of a house, the beginning of college, or another event. The further away the target date, the more aggressive the fund will initially be in an attempt to generate long-term growth. As the target date closes in, the fund transitions to more conservative investments.
Most target date funds are actually a mutual fund of mutual funds, blending the risk profile of funds to create a portfolio to meet the long-term objective. For example, a target date fund bought in 2021 for retirement 2045 would have a 24 year time horizon. Initially, the fund might be more heavily invested into growth mutual funds with a small balance of bond funds for diversification. Over time, the growth fund allocation would reduce in favor of a higher proportion of dividend paying funds and bond funds. The strategy is designed to reduce the fluctuation of the fund as the investor's time horizon approaches.
Commodity Funds
Raw materials, agricultural products, and precious metals are types of commodities. A fund that buys these commodities directly or invests in the companies that produce them is known as a commodities fund.
Types of commodity funds include:
Pure Commodity funds: invest in the underlying commodity, such as silver.
Futures-based commodity funds: invest in commodity futures contracts instead of the actual commodity. These funds are exposed to potential price erosion from the rolling forward of futures contracts.
Commodity Index funds: track an index that includes commodity assets.
Producers funds: invest not in the underlying commodity itself, but the stocks of companies who produce the commodity.
Other Types of Mutual Funds
Mutual Funds can contain a variety of different securities or employ various investment management strategies. Some mutual funds will employ the use of stock options, warrants, or other derivatives, currency hedging, or may invest in private companies. In all cases, a mutual fund's prospectus can help investors develop a good understanding of the fund's objectives, strategy, and types of holdings.
Bottom Line
Mutual funds, like exchange-traded funds, provide investors the ability to gain exposure to a portfolio of securities through one investment vehicle. Mutual funds can contain a broad number of asset classes but most commonly contain stock, bond, and short-term debt instruments.
This article was written by
Kimberlee brings professional experience to her writing. She started as a FINRA Series 7 broker and later transitioned her career into owning an insurance agency and preparing taxes.
Analyst's Disclosure: I/we have no stock, option or similar derivative position in any of the companies mentioned, and no plans to initiate any such positions within the next 72 hours. I wrote this article myself, and it expresses my own opinions. I am not receiving compensation for it. I have no business relationship with any company whose stock is mentioned in this article.
Seeking Alpha's Disclosure: Past performance is no guarantee of future results. No recommendation or advice is being given as to whether any investment is suitable for a particular investor. Any views or opinions expressed above may not reflect those of Seeking Alpha as a whole. Seeking Alpha is not a licensed securities dealer, broker or US investment adviser or investment bank. Our analysts are third party authors that include both professional investors and individual investors who may not be licensed or certified by any institute or regulatory body.