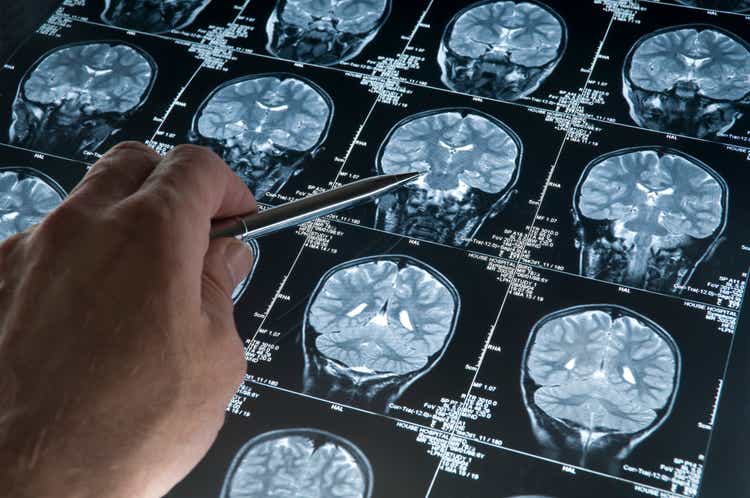 Cortexyme (CRTX) recently announced that it failed to meet its primary endpoints for cognition and activities of daily living for its Alzheimer's drug candidate, atuzaginstat. However in those with detectable levels of P. gingivalis, there was a 57 percent slower decline in cognition (as measured by ADAS-cog 11 scores) at the 80 mg dose and a 42 percent slower decline in cognition at the 40 mg dose. However, 15 percent of those who received the high dose and 7 percent who received the low dose had elevated liver enzymes, which may presage severe liver damage (press release). Unless the liver problems are resolved, it may be difficult for the company to move forward.
From all of this, one can actually figure out a great deal. Most obviously the drug does not help those without this oral bacterial infection. This tells us that the drug's sole mechanism of relevant action is that it limits or prevents the damage done by the bacteria P. gingivalis. This further means that only a relatively small percent of the population (those with an active P. gingivalis infection) can be helped to any extent by the drug.
Secondly, an active P. gingivalis infection can indeed contribute to cognitive decline but a whole array of other factors can do so as well. If it were the only factor, then resolving the infection would essentially stop the progression of Alzheimer's disease.
The best quote regarding Alzheimer's disease as a multi-factorial disease is the following:
Dr. Carrasco and his team think a clinical trial of anti-fungal drugs is the next logical step. But there is yet another possibility. In the absence of a definitive ultimate cause, it may be that the symptoms of Alzheimer's disease can arise from many different types of insult to the brain. There have been several papers, says Dr. Le Guillou that have found correlations between various infectious organisms and Alzheimer's. "It could be a bit like the Mississippi river," says Hardy. "You can start in all sorts of places, but eventually you're going to end up in New Orleans." If Alzheimer's is a general response to all sorts of neurological triggers then it may be that fungal infections found by Dr. Carrasco are simply one of a long list of causes (quote behind paywall).
This is equally true for bacterial infections as it is for fungal infections. In the case of atuzaginistat, the drug inhibits gingipains (produced by P. gingivalis) which decreases oxidative stress. In doing so using the analogy above, Cortexyme is drying up one of the many tributaries into the Mississippi River (the proximate causes of Alzheimer's disease) that eventually ends up in New Orleans (the ultimate cause of Alzheimer's disease).
The further downstream one goes, the greater chances of success one has. A good example of this are antibiotics that act as direct rather than as indirect antioxidants. Most of the evidence for this is anecdotal.
Question from Joy K. - Posted 20 July 2004
Has anyone tested the use of antibiotics for Alzheimer's patients? My mother was diagnosed with the disease more than seven years ago. Although she quit after the diagnosis, she was a heavy smoker most of her life, which resulted in congestion problems. Over the last seven years she was given antibiotics several times. Each time her condition improved dramatically. When she stopped the medication she reverted back to the way she was before. She is now in the last stages of her disease and refuses to eat or drink. She was sent to the emergency room and not expected to survive the night. They gave her an antibiotic drip and by the next day she was fighting to go home. She recognized us, was able to put three words together, and understood and responded to everything we said to her. She even played a little joke on my sister, pretending to be dead and then jump up laughing because she scared her…
Reply from Brian Balin, Ph.D., Philadelphia College of Osteopathic Medicine – Posted 20 July 2004
Remarkably, this is something that has been recognized by clinicians for many, many years. I have innumerable accounts from individuals who have reported on the exact same response. There have been reports back to me of individuals who have not spoken for years that have "recovered" this ability following antibiotics therapy. Is the response specific to treating an infection systematically in the brain, or does it have to do with an anti-inflammatory action of the antibiotics? We just don't have the answers to these questions at this time. In my estimation, there has to be a mandate in this for performing clinical trials based on the antibiotic approach. Hopefully, we can convince the NIH or big pharma that these trials would be worthwhile (Pathogen hypothesis comments).
We do have the answer now. Treating a specific infection can help slow down cognitive loss at least during the early stages of Alzheimer's disease, but using an antibiotic that reduces and partially reverses oxidation and nitration (which subsequently limits inflammation) can potentially help anyone at any stage of Alzheimer's disease.
But which oxidants and which antibiotics? An early culprit in Alzheimer's disease is hydrogen peroxide, but the more persistent oxidant is peroxynirite. The following are peroxynitrite scavenging antibiotics: tetracycline, minocycline, doxycycline, rifamycin, and rifampicin. To date, minocycline has not been effective in the treatment of Alzheimer's disease (negative results), but doxycycline in combination with rifampin/rifampicin has slowed down cognitive decline in Alzheimer's disease (positive results). The greater the scavenging capacity and bioavailability of the antibiotic (or antibiotics) the better the results.
The importance of effective peroxynitrite scavengers in the treatment of Alzheimer's disease cannot be overstated. They have outperformed all other medications used or trialed for Alzheimer's disease including those which target specific triggers for Alzheimer's disease, which inhibit specific receptors (especially specific g protein-coupled receptors and receptor tyrosine kinases) involved in the initiation of Alzheimer's disease, which antagonize downstream enzymes and receptors involved in the production of peroxynitrite, or which address post-peroxynitrite effects such as the formation of misfolded amyloid proteins, altered tau proteins, and inflammation (all of which can then become secondary triggers for the disease). These other approaches are treating the contributors to Alzheimer's disease, whereas peroxynitrite scavengers are treating the likely cause of Alzheimer's disease.
Following is a list of the most successful peroxynitrite scavenging drug candidates and natural products for Alzheimer's disease, the compound class responsible for their positive effects in parentheses, and links to the trial results or case studies.
Trappsol Cyclo from Cyclo Therapeutics (CYTH) (polysaccharides): One Case Study.
GV-971 (oligosaccharides from brown algae): 36 week phase three clinical trial.
Panax ginseng/Korean red ginseng (polysaccharides, saponins, polyphenols): two year open label trial.
Aromatherapy (multiple polyphenols): 28 day open label trial, case study one, case study two, case study three.
Anavex 2-73/blarcamesine from Anavex (AVXL) (tetrahydofurans made from the acid hydrolysis of polysaccharides in oat husks): 148 week open label trial.
All of these treatments, albeit often in small sample sizes, have largely stabilized Alzheimer's disease, and in most cases over long periods of time.
While unsuccessful in a larger population group, the Cortexyme results helped sharpen our understanding of Alzheimer's disease. Investors going forward should give special consideration to the potential of Anavex 2-73 and Trappsol Cyclo for the treatment of Alzheimer's disease.