Editor's note: Seeking Alpha is proud to welcome GARP Guru as a new contributor. It's easy to become a Seeking Alpha contributor and earn money for your best investment ideas. Active contributors also get free access to SA Premium. Click here to find out more »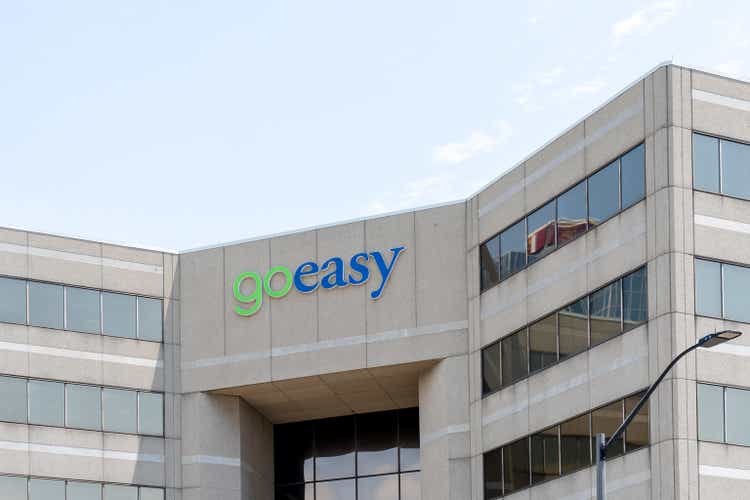 Investment Thesis
The 40% collapse in the share price (see graph below) of goeasy (OTCPK:EHMEF) in the last 6 months has provided a great buying opportunity.

goeasy is trading at a P/E of 8.6, a 48% discount to its 5-year average P/E ratio of 16.5. Beyond the low P/E, goeasy has a high return on equity of 39.7% and high profit margin of 43.2% while having a very healthy current ratio of 15.3. The EPS growth has not only been high at 28.1% over the last 10 years, but has also been consistent, with only one down year (see chart below).
All figures are in Canadian dollars.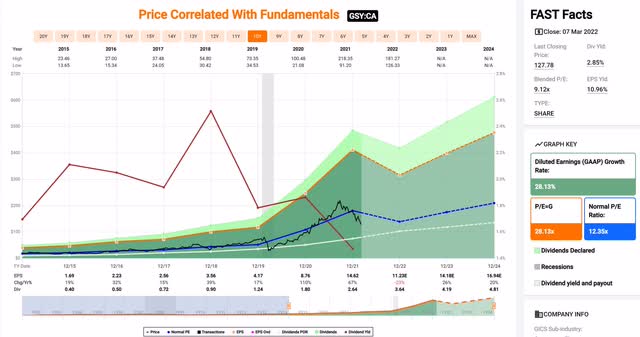 Company Background
goeasy operates through two main divisions: easyfinancial and easyhome. The recent acquisition of Lendcare reports under the easyfinancial business segment. easyfinancial provides installment loans to non-prime borrowers that may not qualify for traditional loans from large Canadian banks. Loans range from $500 to $50,000. The total yield on loans averaged 42.1% in 2021. Due to the lower non-prime nature of the loans, the charge-off rate was 8.8% in 2021. Lendcare specializes in financing consumer purchases such as automotive, healthcare, home improvement, and powersports.
easyhome provides lease-to-own financing for household furniture, appliances and electronics to customers that may not be able to purchase through traditional means. easyhome makes up a smaller part of the company with 18% of consolidated revenue in 2021.
2021 Highlights
In 2019, the company acquired shares in PayBright in a private transaction. PayBright was since acquired by Affirm and Affirm (AFRM) went public. This added an extra $16M and $8.3M of net income in Q4 2021 and Q4 2020 respectively. This brings adjusted diluted EPS to $2.76 down from $2.90. On a full-year basis, 2021 EPS was $14.62 vs. $10.43 when adjusted. This will make 2022 look like a slower growth year since these were one-time events. There remains a performance-based number of Affirm shares that could add to EPS in the future but I could not find the details on when that may be triggered in goeasy filings. Average analyst estimates for 2022 EPS are $11.97. This would show a decline in EPS but organic growth remains strong. This recent organic growth shows that growth is not slowing and that the present low P/E offers a compelling discount for the company.
The quarterly dividend was increased 38% to $3.64 and 444,000 shares were repurchased and cancelled since Nov 2021. The dividend increases over the last decade have been impressive. The chart below also shows the consistent share buybacks in every year. These buybacks will further boost EPS in subsequent years.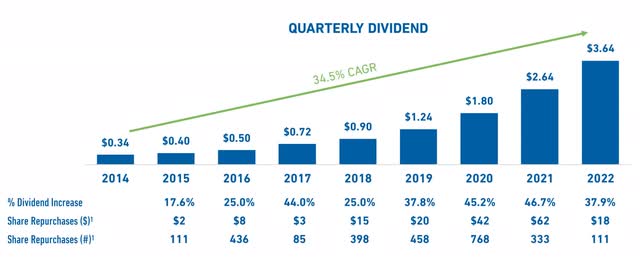 In January 2022, the company reduced the fully drawn weighted average cost of borrowing by 0.6% from 4.8% (Q4 2020) to 4.2%. It also increased the revolving warehouse facility from $300M to $900M. This liquidity should provide funds for organic growth out to Q4 2024.
Is The Company Ethical?
Is goeasy charging unethically high-interest rates or are they providing a valuable service to improve customer's financial health? I leave that answer up to the reader but offer some pros and cons below:
Pros:
1 in 3 customers graduate to prime credit within 12 months of borrowing from easyfinancial
60% of customers improve their credit scores within 12 months of borrowing from easyfinancial
goeasy provides many articles to better educate customers on how to improve their financial situation
Cons:
Customers pay very high-interest rates and may get stuck in the loan longer than the initial term
Related products such as insurance may increase the overall cost of the loan
The BBB has a low 1.2/5.0 customer review rating for the company but holds an A+ rating.
goeasy's Competitors
goeasy does not have many direct competitors in the non-prime omnichannel lending space in Canada that are public. Fairstone and LendDirect are both private companies so showing comparable data is not possible. Ferratum was in the space but no longer offers loans in Canada. Mogo was a smaller competitor that offered loans but has since sold its loan portfolio to goeasy.
Payday lenders such as Money Mart, CashMoney etc. offer a slightly different product at much higher interest rates and often for shorter time periods. Payday loans are often for 2 weeks. Credit unions such as Vancity provide loans but often for customers with higher credit ratings and at lower rates.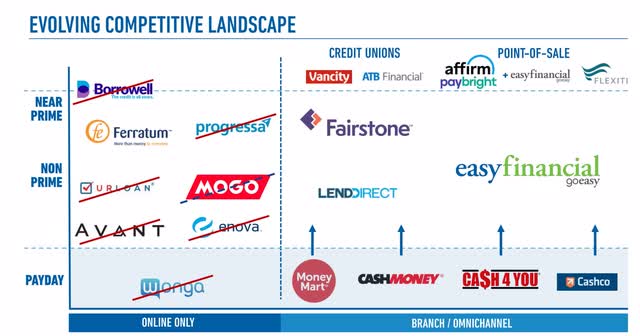 In the secured loan market, easyhome competes with specialized finance card companies like Flexiti (private) and other department store cards. Online, they compete with but also partner with PayBright. PayBright serves as a lead generator for goeasy but also offers other ways to pay such as credit card through installments. PayBright was acquired by Affirm in 2020. The space continues to evolve but there has been heavy consolidation and goeasy is one of these consolidators.
Upstart (UPST) does not yet operate in Canada but could pose a threat in the future if they enter the Canadian market. Their machine learning models may prove to be a lower cost and lower risk way to provide loans vs. more traditional lenders. Upstart also partners with traditional banks instead of holding loans so they avoid loan write-offs.
There are pure online loan companies such as Best Egg and Spring Financial but these appear to be at a smaller scale and not competitive threats.
This shrinking competitive landscape strengthens the case for goeasy as smaller competitors are removed. With fewer competitors, the valuation becomes more compelling.
goeasy Stock Valuation
Growth at a reasonable price (GARP) investors look for a PEG below 1.0 to find value. If we calculate the current PEG using (PEG = P/E / EPS growth rate) we get a PEG of 0.30 (8.45 / 28%). This is far below a fair value PEG of 1.0.
As an investor I want to have 5-year total returns over 100%. To calculate the 5-year total return I will take the current adjusted EPS (TTM) of $10.43 and grow this at the 10-year historical EPS growth rate of 28% for 5 years. To be even more conservative, I will use an annual EPS growth rate of 20% (see table below). Historical returns don't always repeat in the future but due to goeasy's consistent performance I will use this 20% annual rate.
| | |
| --- | --- |
| Year | Projected EPS growing at 20% annual |
| 2021 (current) | $10.43 |
| 2022 | $12.52 |
| 2023 | $15.02 |
| 2024 | $18.02 |
| 2025 | $21.63 |
| 2026 (year 5) | $25.95 |
(author's calculations)
To calculate a possible year 5 share price, I will use the 5th year EPS of $25.95 from the table above multiplied by goeasy's average 5-year P/E of 16.4. This gives a share price of $425.58. Based on the current price of $127.27 and a 5-year price of $425.58, the 5-year total return would be a 234%. This 5-year return is well above my 100% hurdle rate.
Risks
Interest Rate Hikes
The Bank Of Canada recently raised interest rates by 0.25% to 0.50%. goeasy's debt financing is often pegged to the Canadian Dollar Offered Rate ("CDOR") plus a premium. goeasy uses interest rate swap agreements to generate fixed-rate payments. The company also uses hedges for US dollar-denominated debt. While these hedges reduce volatility on the debt, they come at a cost in a rising rate environment. This will likely raise the cost of debt in the next 1-5 years.
Regulatory Changes
The payday lending market has had substantial regulatory changes in recent years to reduce the high cost of such loans. There are additional regulatory measures, by province, which add costs to goeasy. An upcoming change to High-Cost Credit Legislation ("HCCL") in British Columbia on May 1, 2022 may increase costs for goeasy. More details on HCCL can be found here.
Large Loan Book Untested
The easyfinancial segment of the company was very small during the 2008 financial collapse (see dark blue bars in the graph below). Most of the business was secured in the easyhome segment at that time. The non-backed loans of easyfinancial have not yet been tested through a major financial event but did fair well during the recent pandemic.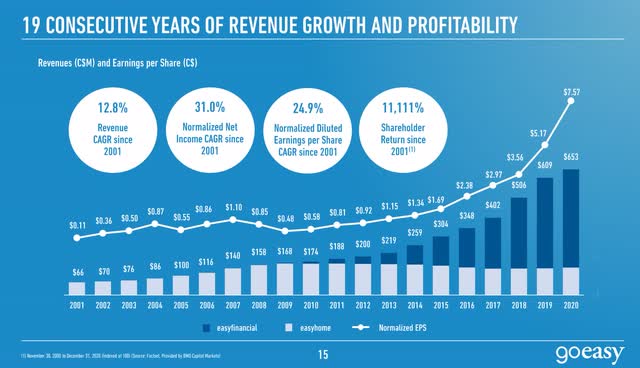 The company projects store growth of 15-20 in 2022 and for the number to fall to just 5 added stores in 2024. This may signal saturation of the physical store market or show a migration of loans provided online.
While there are risks, the high 48% discount in P/E ratio more than compensates an investor.
Summary
goeasy has a long and steady history of growth with few direct competitors in the Canadian non-prime lending market. They have been a consolidator of companies and are gaining economies of scale. Their dividend continues to grow at over 30% per year and the company frequently does share buybacks. The recent 40% decline in the stock price has provided an opportunity to buy goeasy on sale for a 48% discount to historical P/E ratios.