Solid-state drives (SSDs) may be the future of information storage, but try telling hard disk drive (HDDs) manufacturers that they're in the wrong business now and you'll be sure to get taught a lesson. Investors too, occupied with the inevitable transition to SSDs, are ignoring the fact that a much wider movement is upon them. The push towards cloud storage is inevitably growing demand at an alarming rate.
As more and more information gets stored online, companies everywhere ranging from salesforce.com Inc (NYSE:CRM) to Apple (NASDAQ:AAPL) are driving up the need for the commodity that HDD storage space has become. Thanks in part due to the low-cost, high-storage nature of HDDs when contrasted to the alternative found in SSDs, manufacturers of HDDs have found that their medium-term future may be more secure than they're being given credit for on the market.
Indeed, one of the additional reasons that HDDs makers have been taking in lofty profits stems from the fact that there has been an aggressive ongoing consolidation across the face of the industry. In December 2011, Seagate (NASDAQ:STX) completed its acquisition of Samsung's HDD business for a total of $1.375 billion in cash and stock. In March 2012, Western Digital (NYSE:WDC) officially announced the completed acquisition of Hitachi's HDD business. And with the finalization of these two companies, the market effectively became a duopoly were one to discount the small portion owned by Toshiba (OTCPK:TOSBF).
All of this consolidation effectively comes on the heels of an industry already in recovery mode from the Thai flooding disaster which vastly served to raise HDD prices across the board as supply shrank. Yet for Seagate, such macro picture events have only proven to be prosperous for the HDD manufacturer. Emerging practically unscathed from the flooding incidents, the company has seized upon a unique opportunity to thrive in the present environment.
| Company | Market Cap. | Fwd. P/E | Fwd. Dividend | Qtr. Earn. Growth (YOY) |
| --- | --- | --- | --- | --- |
| Western Digital Corp | $9.74 B | 4.77 | N/A | (35.6%) |
| Seagate Technology | $13.11 B | 3.12 | 3.5% | 275.3% |
For its own part, the company knows it's been rolling in the dough, and has taken full advantage of allowing the shareholder to partake in this. In January, the company raised the dividend yield by 39% to a comfortable $1 annually. Additionally, it further supported the stock buyback plan by adding another $1 billion to its limit. As a company now based in Ireland bound by Irish law, the company is required to release its buyback information for a set time after conducted. Investors can find that information on the company's IR page found here. Over the last month alone, investors should be encouraged to see that the company bought back nearly 3% of its outstanding shares - a testament to its own sense of self-worth. As seen below, the company has purchased significant lots of shares every single trading day without pause.
Click to enlarge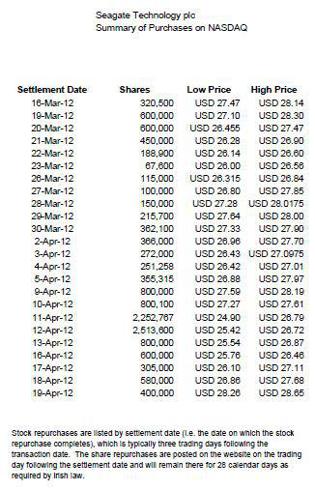 On April 17, Seagate reported its 3Q earnings and knocked a home run. The company saw revenues rise 65% year over year to $4.45 billion and yielded an earnings per share of $2.64. This surpassed both top line and bottom line estimates which were being modeled around $4.37 billion in revenues and an EPS of $2.10.
With analyst consensus currently expecting Seagate to earn $9.37/sh for June 2013, the figure would place Seagate with a forward price-to-earnings ratio of 3.12 - an unthinkable value for most tech companies. Flash memory maker SanDisk (SNDK) for its part carries a forward P/E of 9.16 under its last price of $35.91. The same goes for SSD manufacturer Micron Technology (NASDAQ:MU) with its forward P/E of 10.71 under the last price of $6.64. It's clear that the market continues to discount the HDD makers, but the question remains to be answered as to how long this can truly be the case.
Disclosure: I am long STX.