It's been a while since I found one of these great Chinese stocks that were so easy to find months ago (back then, it was like trying to find a piece of hay - in a pile of hay). Since Xinyuan's (NYSE:XIN) IPO in December, the trend has been in bear mode as the market has faced credit and housing issues all year long lead by the U.S., which hasn't been in favor of upside movement for stocks. I'm not one to call a bottom in the housing sector by any means, but there are always short squeezes and short term opportunities to capitalize on in depressed stocks on the long side.
Fundamentally, XIN is deeply undervalued within the residential construction industry, carrying an extremely low forward price/earnings ratio of just 4.38x, compared to the industry average of 26.67x. For the recent fourth quarter, XIN posted strong results with income up 81%, excluding a one time charge, and revenue more than doubling to $91m.
Looking forward, XIN is expecting strong growth with an estimated 1.77eps in 09, hence the extremely low forward P/E. Given these estimates, XIN carries a future fair value within the industry near $46/share, compared to Fridays closing price of just 7.83. Obviously, it is far fetched to think this stock is going to sky rocket to $46/share. But this depressed valuation along with a bullish chart setup is likely to result in a significant upside move that we can capitalize on. I'm going long XIN today.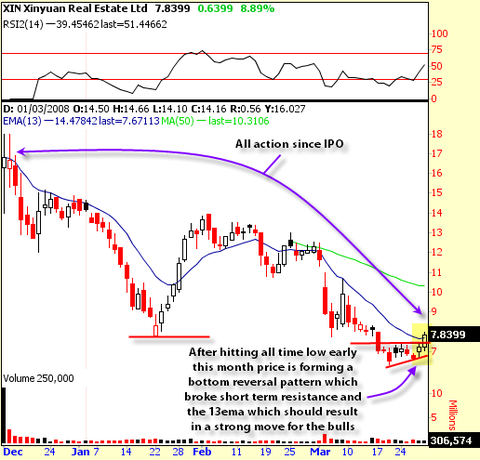 Disclosure: Author has a long position in XIN