Pioneer Drilling (PDC) is growing as this oil and gas services company diversifies geographically around the United States and dips its toe into international expansion. The company has surprised on estimates the last two quarters an average of 27.78%.
Pioneer is an oil and gas services company that provides land contract drilling services to independent and major oil and gas exploration and production companies.
A Zacks #1 Rank (Strong Buy), Pioneer has rigs located in the prolific natural gas producing regions of North, South and East Texas, Oklahoma and the Rocky Mountains.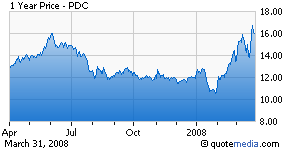 The company's rig fleet consists of 66 land drilling rigs with depth ranges of 6,000 - 18,000 feet. Many of the rigs are designed to be fast moving and quick rig up. The company is geographically diverse. PDC has 20 rigs in the East Texas division, 17 rigs in the South Texas division, 13 rigs in the Rocky Mountains divisions, 10 rigs in the North Texas division and six rigs in the Oklahoma division.
The company has been growing through acquisitions. In 2005, PDC established operations in Western Oklahoma and the Williston Basin of North Dakota and Montana through acquisitions.
On March 3, the company closed on its previously announced acquisition of WEDGE Well Services, LLC. The WEDGE companies provide oil and gas well workover, wireline and fishing and rental services throughout the United States.
Pioneer also separately purchased Prairie Investors, d/b/a Competition Wireline, located in Billings, Montana. Competition Wireline produces the latest pulsed-neutron tool for logging oil and gas wells. Pioneer also acquired six additional wireline trucks.
Pioneer paid $340 million for both companies, securing a $400 million, five-year, senior secured revolving credit facility for the transactions.
After the acquisitions, the company re-organized into two divisions: the Drilling Services Division and the Pioneer Production Services Division. Pioneer's Drilling Services Division will operate 69 drilling rigs throughout the U.S. and Colombia.
The WEDGE companies and Competition Wireline will now make up the Production Services Division which will operate 62 workover rigs, 51 wireline trucks and approximately $13 million in fishing and rental tools throughout the United States. Pioneer estimates its Production Services Division will contribute, on an annualized basis for the 2008 calendar year, $165 million to $185 million of revenue.
The company's growth strategy includes expanding internationally. President and CEO Wm. Stacy Locke said:
By organizing our Company into operating divisions, each headed by experienced, proven leaders, we further position Pioneer to take advantage of this talent for continued expansion and growth. Our production services acquisitions, together with our recent international expansion in our Drilling Services Division, are major steps toward our long- held strategic goal of transforming Pioneer into a multi-national energy services provider.
The company reported third-quarter earnings on Feb 27 and beat estimates by nine cents, or 45%. Net income for the quarter was $14.8 million, or 29 cents per share, compared with net income of $24 million, or 48 cents per share, for the same period in 2006. Analysts expected 20 cents per share.
Pioneer changed its fiscal year end from March 31 to December 31, resulting in a nine month reporting year for 2007.
For the year, reduced down to just nine months, revenue increased $1.1 million to $313.9 million from $312.8 million for the comparable nine months in 2006 due to the advent of Colombian operations, the addition of an average of 7 rigs which were offset by an 8% decline in rig utilization rates and a decrease in average revenues of $621 per day.
Despite a more challenging environment in the industry, brokerage analysts are still optimistic about 2008. Three out of six covering analysts raised first quarter estimates in the last 30 days by five cents to 22 cents from 17 cents per share.
Analysts have also hiked estimates for the full year, with three out of six raising estimates on average of 41 cents to $1.20 from 79 cents per share.
The company is an attractive value pick in the oil and gas services sector. It has a P/E of 12.86. Its price-to-book is 1.75, under the industry average of 1.97.