Teleflex Inc. (NYSE:TFX) reached a 52-week high on October 8, 2012, riding on growing demand from hospitals for its single-use medical devices. This Zacks #2 Rank (Buy) has registered an earnings surprise in three of the last four quarters, and will report again before this month is over. It has also maintained a steady dividend stream for more than 20 years.
A Mixed Quarter
On July 31, Teleflex reported second quarter adjusted earnings per share of $1.14, which beat the Zacks Consensus Estimate by 3.6%. Revenues rose 0.6% year over year (up 4.7% in constant currency) to $383.3 million, but missed the Zacks Consensus Estimate by 5.3%.
Among the major segments, Critical Care reported revenues of $254.1 million, up 0.2% (up 4.4% in constant currency) and Surgical Care stated sales of $72.5 million, down 0.5% (up 3.8% in constant currency). The company reported gross margin of 48.1% versus 47.6% a year ago. Operating margin was up to 16.9% from 14.7% in the year-ago quarter.
The company left its guidance unchanged for 2012. It is expected to report third quarter results on October 31, 2012.
Solid Dividend Yield
Teleflex has consistently maintained a dividend of 34 cents per quarter for the last 18 quarters. Currently, the stock offers a healthy dividend yield of 2.0%. The payout stands at about 32%.
Earnings Estimates Inch Up
The Zacks Consensus Estimate for 2012 is unchanged at $4.36. However, the Zacks Consensus Estimate for 2013 has moved up 1.1% to $4.69 over the last 30 days, representing an estimated annualized growth of 7.5%.
Favorable Valuation
Teleflex is favorably valued per most measures. The company currently trades at a forward P/E multiple of 15.3, a 5.5% discount to the peer group average of 16.2. The price-to-book ratio of 1.61 is 58.5% lower than the peer group average of 3.88. Similarly, the price-to-sales ratio of 1.75 is 42.4% below the peer group average of 3.04. The PEG ratio, however, comes in at 1.57.
A Look at the Chart
Since last July, the stock has fairly consistently beaten its 50- and 200-day moving averages.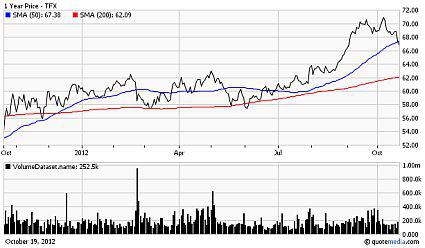 Based in Limerick, Pennsylvania, Teleflex is a provider of specialized medical devices used in surgical and critical care settings. Over the last few years, the company has divested its holdings in cargo containers and cargo systems (part of the erstwhile aerospace division of the company) besides selling off its marine operations. The company now sells its medical devices in over 130 nations. It has a market cap of about $2.7 billion.
Read the full analyst report on TFX (email registration required)