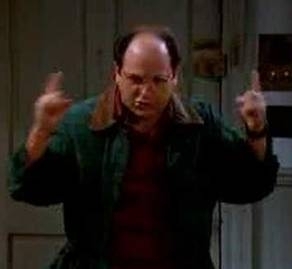 George : It's not working, Jerry. It's just not working.
Jerry : What is it that isn't working?
George : Why did it all turn out like this for me? I had so much promise. I was personable, I was bright. Oh, maybe not academically speaking, but ... I was perceptive. It became very clear to me sitting out there today, that every decision I've ever made, in my entire life, has been wrong. My life is the opposite of everything I want it to be. Every instinct I have, in my entire life... It's all been wrong.
(A waitress comes up to George)
Waitress : Tuna on toast, coleslaw, cup of coffee?
George : Yeah. No, no, no, wait a minute, I always have tuna on toast. Nothing's ever worked out for me with tuna on toast. I want the complete opposite of it. Chicken salad, on rye, untoasted ... and a cup of tea!
Stock markets have been moving in the opposite direction from day to day as well. Just when you think the.....READ MORE!

Subscribe to our RSS feed