Being of a military background and the thought that you tend to navigate towards investments you understand, I would like to convey the thought on Oshkosh and please forgive the rambling pattern.
There are all kinds of businesses that Charlie and I don't understand, but that doesn't cause us to stay up at night. It just means we go on to the next one, and that's what the individual investor should do. –Warern Buffett
I have seen their most recent vehicle (M-ATV) in country and made me think about the company as a whole. Based on Soldiers review they love the vehicle and its increased survivability. Rides well, goes fast and falls apart easily when struck by an IED. This is not a bad thing as long as the capsules (main Body) surrounding the Soldier stays intact, which these do very well.
However, with the war going on for close to ten years you would think that most of the pack has already invested heavily in those areas with value or those that could gain value. There is one stock in particular that I think is still undervalued and has room to grow despite a withdraw from Iraq and pending drawback in Afghanistan in the coming months. This particular stock is Oshkosh Corporation (NYSE:OSK).
Currently as of this writing, the stock is at apx. 34.00 with a PE of 5, yes I said 5. I understand that is not the only way to look at values so let me continue. As of the most recent quarter Profit Margin (ttm): 7.21%, Operating Margin (ttm): 12.56%, Return on Assets (ttm): 13.04%, Return on Equity (ttm): 94.50%. and quarterly revenue growth is increasing. The naysayers would focus on the EPS Growth (TTM vs. Prior TTM) -139.44%  but a EPS Growth (Last 5 Years) +57.84% projected earnings growth is lower in the 50% range. The long-term debt is high but manageable with a Current Ratio 1.3 (NYSE:TTM), which is below the average for that industry. Profit margin was 10.22%.  OSK's ROE is the highest within its Comm. Vehicles, Trucks Subsector.  The company's interest coverage is at its five-year low.

You will probably do you own more in-depth analysis but overall the company if faring rather well and I do not take myself for any type of analytical investor. I invest in what I know and understand as stated above.

1 YEAR PRICE CHART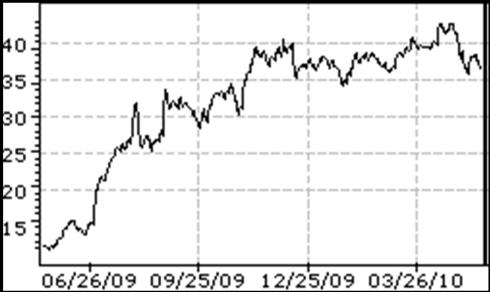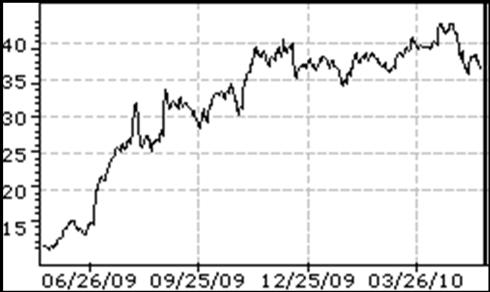 5 YEAR PRICE CHART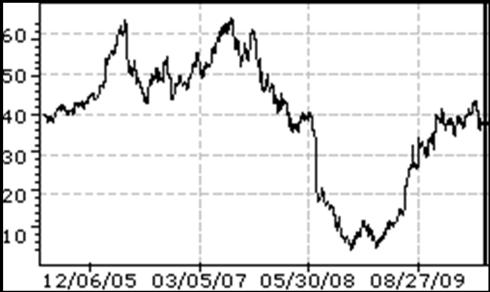 To be fair Jack Hough of Smart Money has a different opinion after the recent triple gains.
"The company's net debt following the acquisition was a lofty 70% of its total capital. That was shortly before the industrial world slipped into recession, demand for platforms dropped and dealers were left with excess inventory. Investors feared the worst, sending the stock below $5 in November 2008 and again in March 2009. However, Oshkosh has made up for part of the sales decline of late by selling armor for military trucks, and the company has aggressively reduced its debt -- to about 40% of capital today. The firm's stock price has recovered all the way to $38 and change. Shares sell for only about five times this year's forecast profit, but next year as the bulk of the company's military orders wind down, profits are expected to fall by more than half. Municipal orders for emergency trucks are weak at the moment. Oshkosh stock could easily continue to outperform, but much depends on a sustained economic recovery and a corresponding rise in sales of work vehicles and platforms."
So what is the outlook?  Again, it goes back to thought s of less vehicles and a still slow economy. Despite a recent $410 million order. To date, Oshkosh Corporation has received orders valued at more than $690 million under the five-year FMTV requirements contract. So what does the future hold?

Some are bearish (Chart).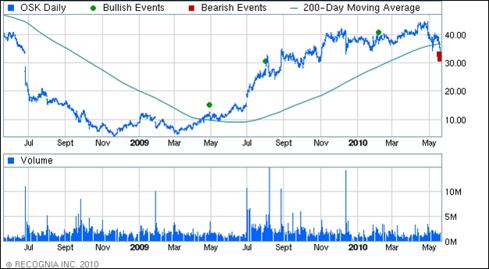 If I knew that, I would be rich but again I tend to think the economy will continue to recover and OSK is not just a military supplier. On the military side again, given its work on the Joint Light Tactical Vehicle program, which is meant to eventually replace the Humvees, and its purchases of over 8,000 new MRAP All Terrain Vehicles for use in Afghanistan.  Predicted the Army would be looking for the cheapest way to upgrade the current Humvees, unless the Pentagon decided to cancel the Joint Light Tactical Vehicle program. But the Marine Corps, which has about 30,000 Humvees, was probably interested in more significant upgrades, given the expected heavy weight of the new JLTV trucks, McAleese said. He said AM General, the privately held Humvee manufacturer, Oshkosh Corp (OSK) and BAE Systems (OTCPK:BAESF) , as well as some smaller companies specializing in servicing of trucks, were likely to compete with Textron (NYSE:TXT) for the Humvee upgrades. (Reporting by Andrea Shalal-Esa; Editing by Richard Chang)
Therefore, the overall recommendation for me is BUY – for others it depends on your risk level and approach to buy in (on pull back). In terms of risk on days when the market is up, OSK shares tends to outperform the S&P 500 index. However, on days when the market is down, the shares generally decrease by more than the S&P 500 index. In both short-term and long-term periods, OSK has shown high correlation (>=0.4) with the S&P 500 index. Thus, this stock would provide only low levels of diversification to a portfolio similar to the broader market.
Still War unfortunately is only profitable for the business world not the Soldier. Therefore, I will continue to work the business side online and work the Soldier side in country. So back to work and off for a ride. They are some cool vehicles as long as you do not have to experience getting your world rocked by an IED either in Afghanistan or in the market.
 Business Description
Oshkosh Corporation Formerly known as Oshkosh Truck Corporation. The Group's principal activity is to design, manufacture and market specialty commercial, fire and emergency and military trucks. The Group operates through four segments. Access Equipment segment manufactures aerial work platforms
and telehandlers used in construction, industrial, institutional and general maintenance applications to position workers and materials at elevated heights. Defense segment manufactures heavy and medium-payload tactical trucks and supply parts and services for the U.S. military and for other militaries. Commercial segment manufactures, markets and distributes concrete mixers, portable
concrete batch plants and vehicle and vehicle body components. Fire and Emergency segment manufactures and markets commercial and custom fire vehicles, broadcast vehicles and emergency vehicles. The Group operates in the United States, North America, Europe and other countries. On 06-Dec-2006, the Group acquired JLG Industries Inc.
Disclosure:
LONG