The German Economy

Germany is the largest economy in Europe and the fifth-largest in the world when measured by purchasing power parity (after U.S., China, India and Japan). It is the world's second-largest exporter (larger than U.S. or Japan) and second only to China. The country has a very high standard of living and a comprehensive system of social security. In addition, the country has a highly qualified labor force and a very high level of innovation. The unemployment in Germany is quite low compared to other eurozone member states like Spain, Portugal, Italy and even France. Its economy has been quite resilient though there are now definite signs of slowdown with a negative GDP growth expected in the coming years. It is unclear whether Germany will be able to bail out the weaker eurozone countries without impacting its own economy.
Germany has a large number of multinational companies - 32 of the Fortune Global 500 are German (there are 132 American on the list and 73 from China). Quite a few of these are listed on U.S. exchanges though some are traded over-the-counter (OTC). This may not necessarily be a red flag since these are giant companies with healthy trading volumes. Perhaps, they just do not want to go through the extra regulatory processes of listing on NYSE or NASDAQ. My personal goal is to diversify my portfolio globally - have a large percentage in foreign stocks in addition to US headquartered companies that get significant portion of sales and profits from abroad.
Dividends as Stock Screen
I firmly believe that dividends are real cash and hard to fake. They are paid out of positive cash flow and while accounting gimmicks (and even fraud) can be used to window dress earnings per share, dividends are typically honest. I use inconsistent dividend history and/or big cuts to exclude stocks. I prefer stocks with increasing dividend amounts in native currency. I do understand that the U.S. dollar amount may vary due to conversion rates but since I don't use dividends as income that does not bother me at all.
I have included a simple chart for each company that shows the dividends distributed in euros. Most German companies take pride in their dividend distribution track record and made it relatively easy to extract information. It took less than a few clicks to get the information for last 5 years - a positive and encourage sign.
Withholding Tax on Dividends
Germany withholds tax on dividends at the rate of 25% + solidarity tax (=26.375%) for non-resident investors. An individual investor can file for tax credit on Form 1040 if the shares are held in a regular brokerage account subject to certain limitations. Amounts up to $300 ($600 for joint returns) can be claimed directly on the 1040 but greater amounts or carry-forward/backward requires Form 1116. If the shares are held in a tax deferred account like IRA or 401(k) then no withholding taxes are deducted by Germany. This is quite different from most other countries so German stocks are suited for such tax advantaged accounts. However, some brokers may not file the appropriate paperwork that proves the US resident status to the German tax authorities. If this happens then there is no mechanism to recover the withholding foreign tax for tax advantaged accounts which would reduce the effective yield. Confirm with your broker before buying German equities in your IRA or 401(k). Finally, I must remind the reader that I am not a qualified financial consultant or tax expert. Please consult your tax advisor to discuss your specific tax situation.
Stock

Ticker

ADR
Ratio

Price
(Euro)

EPS
(Euro)

P/E
(Euro)

Price
(NYSEARCA:USD)

Div Amt

Yield

Payout Ratio

Div Growth
1-Yr

Div Growth
3-Yr

Div Growth
5-Yr

Allianz

AZSEY

0.1

86.35

5.63

15.34

10.57

0.55305

5.23%

79.93%

0.00%

8.74%

3.44%

BASF

BASFY

1

60.76

6.26

9.71

74.69

3.0725

4.11%

39.94%

13.64%

8.63%

10.76%

BMW

BAMXY

0.33

60.1

7.45

8.07

24.5

0.932811

3.81%

30.87%

76.92%

97.18%

26.86%

Bayer

BAYRY

1

62.71

2.99

20.97

77.14

2.02785

2.63%

55.18%

10.00%

5.63%

10.53%

Munich Re

MURGY

0.1

118.6

3.94

30.10

14.69

0.768125

5.23%

158.63%

0.00%

4.35%

6.79%

K+S

KPLUY

0.5

39.77

3.04

13.08

24.7

0.79885

3.23%

42.76%

30.00%

-18.48%

21.06%

Siemens

SI

1

73.83

7.82

9.44

90.88

3.687

4.06%

38.36%

11.11%

23.31%

15.65%
Allianz (OTCQX:AZSEY)
Allianz is a global financial services giant with headquarters in Munich. Its core business is insurance though it has a big active investment management business as well. This includes the famed PIMCO asset manager. It has a minority stake in Commerzbank though its primary business is insurance. Allianz is probably more exposed to the ongoing eurocrisis and may be a bit more risky than other industrial German giants discussed in this article.
I am watching it given an exciting yield of 5.2% right now and a past history of dividend growth. There was a bad year in 2009, but I wouldn't hold this against them. I am not too thrilled with the idea of owning financial stocks from the eurozone but have added it to my watch list.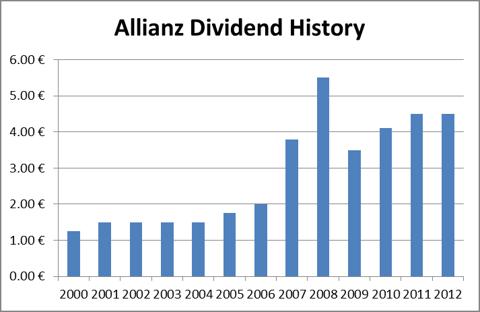 BASF (OTCQX:BASFY)
BASF is the largest chemical company in the world. The acronym BASF used to stand for Baden Aniline and Soda Factory when it was founded in 1865 but now the company is only known as BASF. It has grown over the last few decades rapidly by acquiring various smaller chemical companies around the world. It now manufactures chemicals, glues, solvents, agricultural as well as various construction related chemicals. It is the leading producer of Engineered Plastics. BASF has an agricultural division that manufactures fungicides, herbicides and insecticides. Its biggest competitors are Dow Chemical (DOW), EI du Pont de Nemours (DD), 3M (NYSE:MMM) and Akzo Nobel (OTCQX:AKZOY).
BASF has a good dividend growth history. It had been increasing dividends quite consistently over the last few years, but had a down year in 2010. I don't hold it against the company, given the global downturn. The current payout ratio is reasonable and yield is 4.1%. The company is in a cyclical industry so one needs to buy it at a low price when the economic cycle is a bit down. I have owned it for two years now and would add more if the price comes closer to $60-62.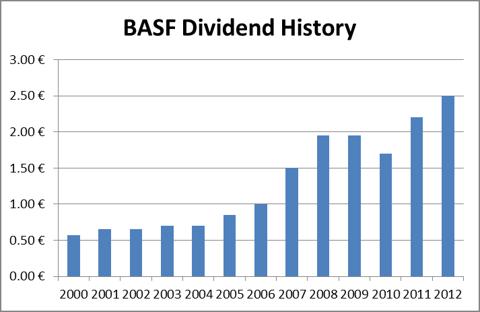 BMW (BAMXY.PK)
BMW is a premium automobile, motorcycle and engine manufacturer with headquarters in Munich. Its car brands include BMW, Mini and Rolls-Royce and motorcycle brands include BMW Motorrad and Husqvarna. It is the world's biggest maker of luxury vehicles and is followed by Audi, which is owned by Volkswagen (OTCPK:VLKAY) and by Mercedes Benz in the third place, which is owned by Daimler (DDAIY.PK). BMW has been growing at a fast pace and gained brand recognition all over the world. Its most recent quarterly performance was the best in the company's history. BMW sales growth in China was more than 30% and surprisingly it managed to increase sales of both BMW and Mini brands in Europe also in spite of the tough economic conditions. In addition, BMW has managed to beat Lexus in the North American market as well where Lexus was the largest-selling luxury car for the last few years.
I believe that BMW is best positioned to capitalize on the growing demand for premium goods in China and other developing economies. Right now, it is enjoying the benefits of a weak euro since a large percent of its sales are outside the euro zone. BMW enjoys great loyalty from the well-to-do driver, which makes the company less susceptible to economic cycles and slowdown. The company has a decent dividend history with a few blips. The current dividend yield is very attractive and the company has increased dividends at a fast pace recently. I have a limit buy order at $22, which may execute on a day of fear and panic in the markets.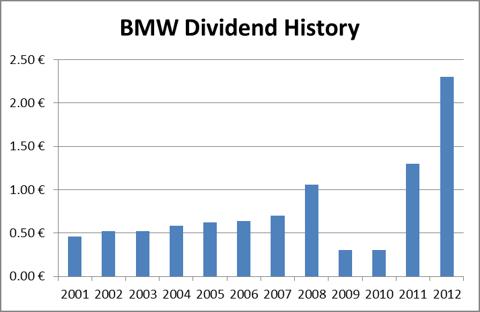 Bayer (OTCPK:BAYRY)
Bayer is a chemical and pharmaceutical giant founded in 1863. It invented aspirin in 1897 and owns the trademark. Bayer has a huge crop science and animal health businesses in addition to the chemical and pharmaceuticals. Bayer is gaining momentum in emerging markets. Healthcare, Crop Science and Material Science divisions have recently seen double digit growth. Bayer has reduced debt over the last few quarters, and I feel that if euro remains weak, then the company may continue to book foreign exchange benefits as well. The pharma pipeline appears strong, with few molecules in late stage trials. I consider Bayer as a play on the global economy, given their wide global reach and presence in all chemical-related segments. Its biggest competitors are BASF , J&J (NYSE:JNJ), Abbott (NYSE:ABT) and Dow Chemical .
Bayer has been consistently increasing the dividends over the eight years though the yield is not high at 2.63%. I will try to enter at a better yield point perhaps when the market catches a cold and the price comes down to the $60 level.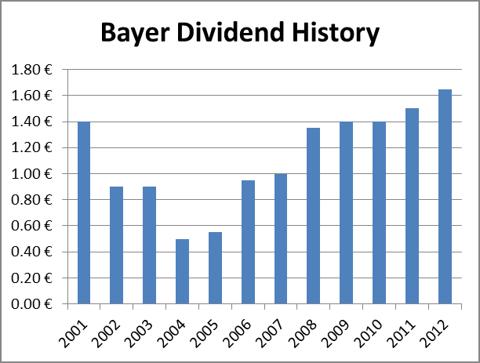 K+S (OTCQX:KPLUY)
K+S is one of the world's leading suppliers of fertilizers and salt. It has six mines in Germany that extract potash and magnesium crude salts and is developing a new potash mining facility in Saskatchewan, in Canada. It also manufactures nitrogen-based fertilizers like calcium ammonium nitrate and other complex fertilizers. The Salt Segment of the company produces food grade salt, industrial salt, de-icing salt and sodium chloride brine. American consumers may be familiar with Morton Salt, which is owned by K+S. Its biggest competitors are Potash Corp of Saskatchewan (NYSE:POT), Yara International (OTCPK:YARIY) and Compass Mineral International (NYSE:CMP).
K+S declared an extra big dividend in 2009 that makes its dividend history look inconsistent and unreliable but I am willing to look at the big picture. It is one of the best producers of an important commodity with an increasing dividend in the last three years. The current yield is 3.2% but if the stock falls down to the 52-week low price of $20 then the yield would be a very attractive 4%. The biggest negative about the stock is low trading volume in the U.S.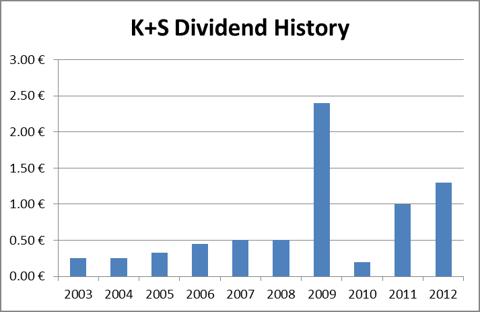 Munich Re (OTCPK:MURGY)
Munich Re is one of the world's leading reinsurance companies based in Munich. Its subsidiary, ERGO provides primary insurance. Warren Buffett is the largest single shareholder of the company with more than 10% stake. The global premiums written have continued to increase over the last few years, and the operating results have been satisfactory.
The company increased the dividend substantially between 2004 and 2006. The dividend since then has grown slowly but surely. The company had a significant impact to the bottom line in 2011 due to various natural catastrophes. The current yield is 5.2% right now with a payout ratio greater than 100% though the payout was in the range of 40-60% in previous years. I own very few financial stocks and no insurance stocks and will continue to watch Munich Re to get an exposure to Buffet's favorite sector.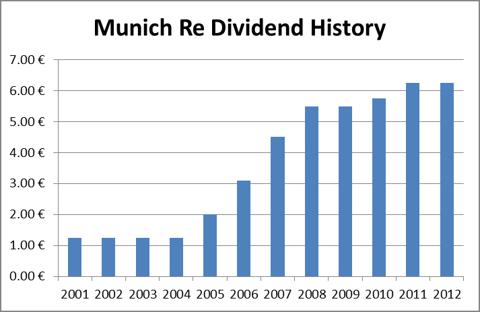 Siemens (SI)
Siemens is a multinational electronics and electrical engineering giant with headquarters in Munich. The company was founded in 1847. It operates in Energy, Healthcare, Infrastructure, Financial services and IT solutions. It is best thought of as the GE of Germany. Siemens was accused in a bribery and price fixing case in 2007, but has since then resolved the issues by paying various fines. It is now making a push to grow significantly in the U.S. The latest quarter results were not as promising with the company reporting fewer order bookings in its automation division though medical devices seem to be doing fine. It has the usual risks associated with big companies in eurozone. Siemens' competitors are GE, Honeywell (NYSE:HON), ABB and Emerson Electric (NYSE:EMR). In the medical devices segment its competitors include Abbott , Philips (NYSE:PHG) and Toshiba (OTCPK:TOSYY).
Siemens has shown a great commitment to increasing dividends, and I find its current dividend yield of 4% in the sweet spot of 3%-4.5%. Siemens is well positioned to take advantage of an increase in infrastructure spending around the world even though right now there are questions of slowdown in China, the U.S. and elsewhere. I still think that the company will do well in the coming decade and will buy more of it if and when the stock is in $79-81 range.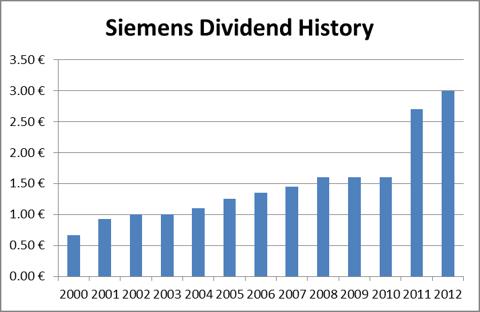 Concluding Remarks
Germany is my favorite country for foreign investments along with England. I own BASF, Siemens, E.On (OTCPK:EONGY) and am looking forward to buying Bayer, BMW and Munich Re. I bought E.On before the nuclear disaster in Japan and the subsequent plan for phasing out nuclear power in Germany. I have since then gotten into GDF Suez (GDFZY.PK) and plan to increase my holdings if GDF approaches $20 again. What is your opinion about the eurozone stocks and German stocks in particular?
Additional disclosure: I plan to buy BAMXY.PK and MURGY.PK if they come down 11-13% in price without significant change in business fundamentals (or my cash situation).
Disclosure: I have no positions in any stocks mentioned, and no plans to initiate any positions within the next 72 hours. I wrote this article myself, and it expresses my own opinions. I am not receiving compensation for it. I have no business relationship with any company whose stock is mentioned in this article.