Part of the problem is that there's been hardly any residential construction over the last seven years. Meanwhile the population has grown steadily, credit standards are loosening, and unemployment in California is dropping faster than the rest of the country. All of that means the state is poised for another construction boom.

- from American Public Media's Marketplace: "A zombie housing development comes back to life" by David Weinberg, July 9, 2013
The above quote is from a fascinating story about a 2-man team, a real estate agent and a contractor, who have gone from boom to bust and hopeful boom. They went from a whiteboard full of developments to one lonely desert plot in Lancaster, CA (abut 70 miles north of Los Angeles). After seven years, this vacant lot is finally getting developed with funding from private investors. The real estate agent believes that they will sell out of the 44 homes beginning construction in about three months based on current sales trends. Weinberg suggests this activity is one sign that a new construction boom is coming to California.
Weinberg did not ask whether interest rates would impact this bullish forecast. Perhaps soaring rates are driving an additional rush to buy before rates go ever higher. In less than two months, the 30-year mortgage rate has already gone from historic lows to levels last seen in the middle of 2011.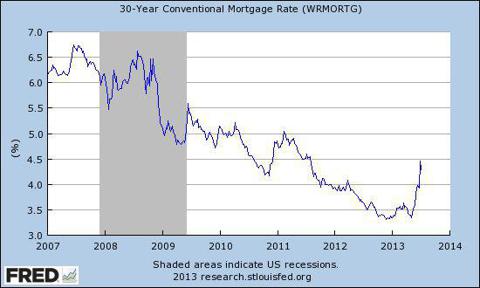 U.S. 30-Year Conventional Mortgage Rate (weekly, ending Thursdays)
Source: St. Louis Federal Reserve
However, if the economy is truly improving and higher rates reflect the long overdue decrease in deflationary fears, then the more important data will be like the ones below. Residential construction is essentially at depressed levels. While multi-family construction has slowly recovered to pre-recession levels, single-family construction is still at least 60% below anything that would be considered even close to normal for California. This collapse in construction is one of the sources of the existing inventory crunch that is sending buyers bidding over each other in California's hottest markets. (An economist quoted in the Marketplace story claims that 98% of all California's foreclosed homes are now in the hands of new owners - the additional implication is that any new foreclosures should be snapped up relatively quickly).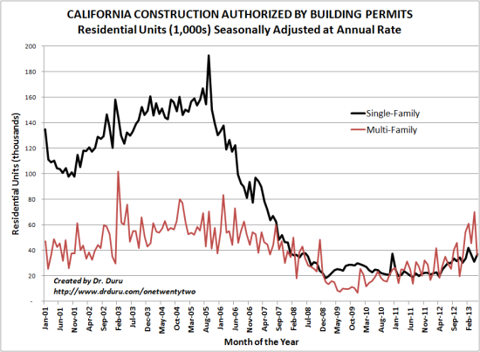 CALIFORNIA CONSTRUCTION AUTHORIZED BY BUILDING PERMITS: Residential Units (1,000s) Seasonally Adjusted at Annual Rate
Source: California Department of Finance
A pick up in construction, even something less than a new boom, should also have a dramatic spill-over effect into jobs. Overall construction employment in California remains at depressed levels.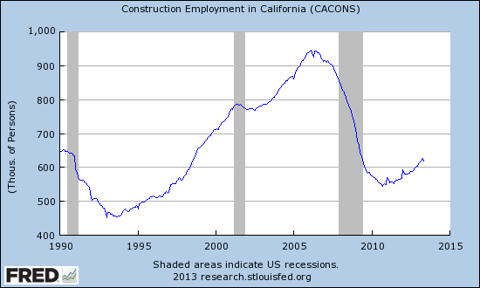 Construction Employment in California (Seasonally Adjusted)
Source: St. Louis Federal Reserve
And more jobs should eventually add more housing demand…
In several prior posts on the real estate market, I have argued that the housing recovery will be bumpy and offer multiple buying opportunities for the patient. The jump in mortgage rates has provided just such an opportunity. In particular, I have been targeting Tri Point Homes Inc. (NYSE:TPH) given its high concentration of business in California. TPH had churned in a tight post-IPO range until a sell-off began in late May. I used the acceleration of that sell-off in June to start accumulating shares. While still in a downtrend (as defined by the declining 20-day and 50-day moving averages), the stock has bounced sharply off its all-time lows.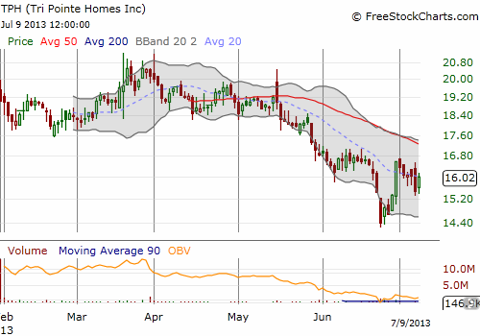 Tri Pointe Homes struggles to maintain its bounce off its lows
Source: FreeStockCharts.com
Given the uncertainty of the immediate or near-term impact of higher rates, I have not yet started a new buying cycle of shares of other homebuilders, but my top picks remain the same (see for example, "Homebuilder Price Performance Diverges In 2013 As Shorts Continue An Uneven Retreat").
Be careful out there!
Disclosure: I am long TPH. I wrote this article myself, and it expresses my own opinions. I am not receiving compensation for it (other than from Seeking Alpha). I have no business relationship with any company whose stock is mentioned in this article.