Exact Sciences (NASDAQ:EXAS) recently cut a marketing deal with Pfizer (PFE) for Cologuard. That will greatly improve the market penetration of Exact's highly effective and noninvasive colon cancer test. As a result, short sellers have been covering their positions, driving the stock nearly straight up the past few days.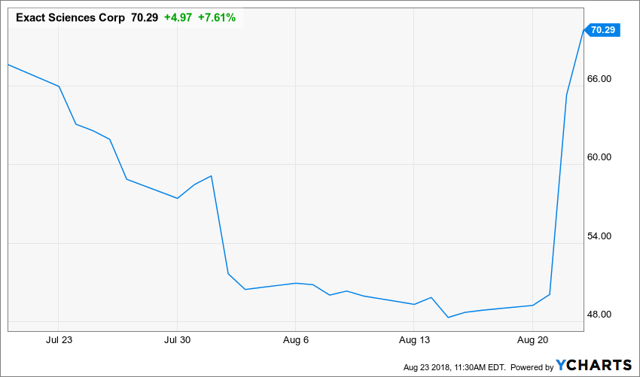 As readers know, I openly took on Citron Research when I wrote:
Citron Is Very Wrong On Exact Sciences
I have been long Exact Sciences since 2008 and was a buyer of the stock well under $3 per share. As members and clients know, I have twice traded to gains around 1000% (and once to a loss of 50% on the USPSTF fiasco) in Exact stock and calls.
I'm no Exact hater. I think CEO Kevin Conroy is a rock star. That said, it's time to sell shares of Exact Sciences near the highs of its trading range. This is a third chance for investors to take profits near the top of the range and they should do just that.
The Pfizer Deal Is Not Great Or Terrible
As part of the deal, Pfizer will get a portion of the profits from Cologuard sales over certain agreed upon baseline levels. Pfizer will contribute cash and marketing to grow Cologuard sales.
The reason that Exact had not cut a deal like this before is because they wanted to make all of the profits themselves. However, uptake of Cologuard has not been the upward bending growth curve they expected. The growth, while still there, has not been accelerating.
In an interview with Jim Cramer on CNBC, Conroy was asked whether or not a perception from Wall Street, that growth of adoption of Cologuard was not fast enough, spurred the Pfizer deal? Conroy said "absolutely no," however, I believe the Pfizer deal is clearly designed to accelerate growth short term regardless.
The deal with Pfizer will most likely accelerate adoption short term. That's important because once people take the test for the first time, they are now about two thirds likely to take the test again, creating low-cost recurring revenue for the company.
With the Pfizer deal running for four years, Exact is in position to reach its target market penetration of 30%-50% during that time frame and then continue to receive the recurring revenue afterwards.
The baseline revenue numbers for the deal run from $622 million next year to $1.2 billion in 2021. My estimate for Cologuard revenue has been $4 to $6 billion per year by 2022. So, it's easy to see that at $100 million of revenue in the most recent quarter, that the Pfizer deal is needed to get too the numbers I have considered attainable.
I think the Pfizer deal helps Cologuard get much closer to the revenue numbers I have suggested. That's good. But Pfizer will receive half of gross profit margin for four years above the baseline numbers.
If Cologuard does $2 billion in revenue in 2021, which I think is a low estimate, with gross margins of 70% (slightly below the most recent quarter), then Pfizer is taking $280,000,000 of the profits in that last year of the deal (from $800,000,000 above baseline x 70% gross margin x 1/2).
So, Exact is in a catch 22. They need Pfizer's help short term, but it comes at a substantial price. This eliminates quite a bit of the stock's home run potential in my opinion, but does solidify the company for the long haul.
Exact Sciences Long Term
It's important for investors to know that Exact Sciences is marching toward profitability, likely sometime in 2019. Their most recent quarter, though labeled disappointing by some analysts, was still up 70% year over year. This is not bad news, it's just not what analysts were hoping for to support their stock target price estimates.
Investors should consider that analysts have been remarkably bad at making estimates for Exact Sciences over the years. My estimates have been near the top as covered by Estimize, though falling off recently as Cologuard has not hit the hockey stick growth curve I anticipated to happen over the past year.
Going forward, Exact's revenues from Cologuard should eventually reach the $4 billion to $6 billion range. I now anticipate the lower end of that range, not the higher.
Exact's next major catalyst is a blood based test for liver cancer. This has the potential to be a game changer in liver cancer testing. In recent research, the test showed 95% sensitivity and 93% specificity. This means that the test found 95% of cancers and had a very low false positive rate.
With approximately 42,000 people per year diagnosed with liver cancer each year, a blood-based liver cancer test could add up to another billion dollars per year to Exact's revenue.
The success of the liver cancer test would be great, but it really only offsets the disappointments of the most optimistic estimates previously held. In other words, the liver cancer test is needed to boost Exact Sciences to the high end of the revenue range I have identified as a big bull on the company's potential success.
What Does This All Mean For the Stock?
The gloom and doom short thesis about Exact Sciences that have been narrated by those motivated to drive the stock down have clearly been debunked over the years. But the highly optimistic estimates have at a minimum been delayed and most likely those estimates were too high to begin with.
As Conroy told me several years ago, Exact is now an execution story. It is executing. However, market realities have hit it. Slower than hoped for penetration of Cologuard, a profit sharing agreement to push Cologuard adoptions and some pipeline disappointments have left Exact shares in a spot where once shorts have finished covering, which is imminent, the shares will become much more valuation sensitive.
I have stated I believe that the ultimate upside for Exact shares sometime in the early to middle 2020s was $100 to $200/share. I still believe that's the range. A couple years ago, I thought the high end of the range was most likely. Now, I'm not so sure. Again, execution will be key.
Exact shares have become very challenging to own at these prices given uncertainties in Cologuard adoption rates, now sharing some profits and the pipeline being less impactful than hoped for a couple years ago.
Technically, Exact is ripening for a reversal as bullish indicators peak.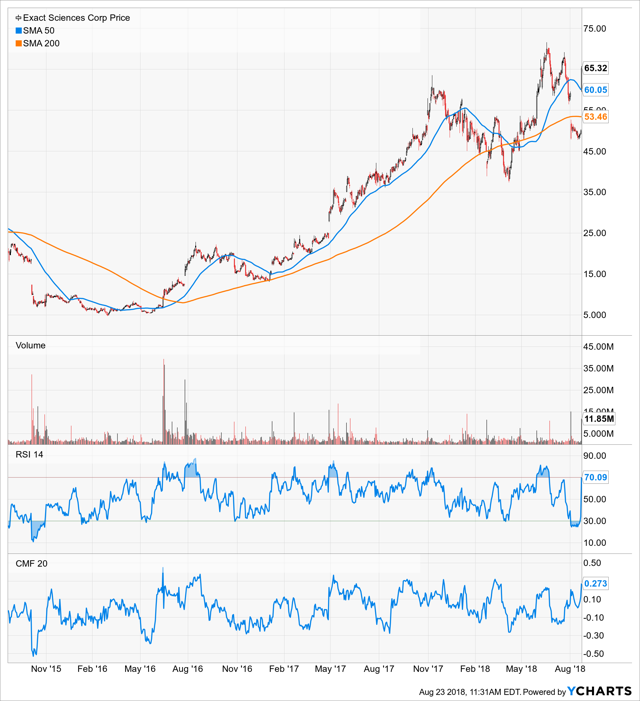 Downside to Exact shares clearly exists to around $40 per share if this is indeed a trading range. Upside is limited in the short term. I recommend taking profits in Exact Sciences and looking for much lower entry points in the future.