Dividend Investing: What It Is & How To Start
Dividend investing is a strategy of investing in firms that pay cash back to its owners, which can offer regular income from investments in addition to any price appreciation.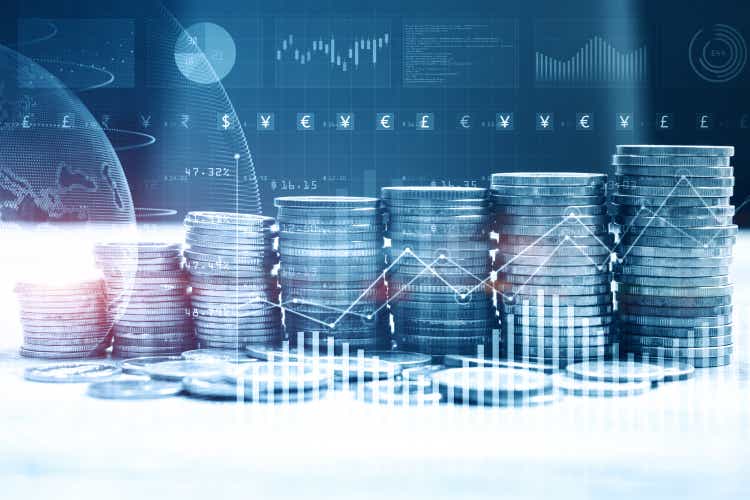 What Is Dividend Investing?
Dividend investing is a strategy for generating passive income from your investments by buying stocks that pay regular dividends. A good place to begin is to compile a list of stocks with high and stable dividend payouts. An investor can then analyze each company to see whether they're a fit for their portfolio. Buying dividend stocks is a popular approach for investors who seek to generate cash flow.
Dividend stocks are often less
volatile
than
growth stocks
. This is why focusing on dividend stocks is an approach that appeals to many investors with a lower risk tolerance.
Dividend investing is a strategy that gives investors
two sources of potential profit:
The income from regular dividend payments
Growth in the stock price over time
When you use the dividend payouts to buy more shares of the dividend-paying stock, you allow your portfolio to benefit from what is known as enhanced compounding.
How Dividend Investing Works
A dividend is a payment that a company makes to its shareholders, usually on a regular basis. Many investors, especially novices, are drawn to dividend investing because of its hands-off approach. Dividends return company profits to shareholders without any required action from the investor.
Dividends are appealing because often dividend yields alone are as high as, and often higher than, interest payments on Treasury bonds. By putting enough money in the shares of a dividend-issuing company, an investor can earn regular passive income.
Dividend Investing Strategies & Examples
Most dividend companies issue payments every quarter, although some choose to pay dividends every six months or annually. Mutual funds focused on dividends, called dividend mutual funds, and dividend ETFs, hold the stocks of public companies that pay regular dividends. An investor who owns the stocks of dividend-paying companies through a mutual fund or ETF, will be the recipient of shareholder payments issued by those companies.
Investors are free to reinvest dividend income by buying more shares of the dividend-bearing stock or to divert the value of the dividend into another asset in their investment account.
Examples
Let's say an investor decides to create a dividend stock portfolio containing three stocks. Company ABC pays dividends the way most companies do – quarterly.
Let's assume the dividend yield for company ABC is 5% annually. If an investor own $1,000 worth of its shares, every quarter they'll receive a payout of $12.50, totalling $50 over a full year.
Company XYZ pays dividends annually, and currently offers a dividend yield of 7%. $1,000 of this stock would yield a single $70 payment for the year.
Dividend Growth Investing Strategies
A dividend growth strategy works through reinvestment of dividends. Here are the 3 things that need to happen:
The investor buys shares of a stock that pays dividends
The investor hold those shares – as opposed to selling them
The investor receives cash dividend payments, and uses these funds to purchase more shares in the same company OR another investment.
With this approach, investors' holdings grow when the share price increases, and also through dividend reinvestment.
For example, assume that an investor owns 100 shares of XYZ stock at $10 per share, for a curent market value of $1,000. Let's say that, at the end of the year, when a dividend of $70 was paid, the investor reinvested it, thus acquiring 7 more shares. This means that the investor now had 107 shares, which, at the end of the second year, would each carry a dividend, netting you a total of $77.49.
A high dividend yield strategy is a buy-and-hold approach that focuses on stocks whose dividend payment are high as a % of the stock price. In essence, it is a classic value strategy, as stocks are selected on the basis of how inexpensive they are in relation to the dividend. However, many high-yielding dividend stocks possess a high payout ratio, which puts them at greater risk of being unable to support the dividend via earnings.
Taxes on Dividend Investing
For American investors. money earned from a dividend is taxed either as a qualified dividend or as ordinary income. A dividend is qualified if the issuer is U.S. based or, if it is a foreign company, trades on a major U.S. stock exchange.
Qualified dividends offer the benefit of being taxed at a lower tax rate than ordinary income – between 0% and 20%
Normal tax rate: 30% and above
Capital gains tax rate: 15%-20%. (Someone earning less than ~55K annually will pay 0%; if less than $445K, it will be 15%; and those earning more will pay 20%.)
Unqualified dividends are taxed at the normal income tax rate
Automatic reinvesting of a dividend does not trigger a tax event, although selling the stock thereafter would.
Finding Dividend Stocks and ETFs
A search for "high-dividend stocks" or "dividend aristocrats" will generate many lists of stocks that offer attractive dividend yields.
The S&P 500 Dividend Aristocrats list includes certain companies that are in the S&P 500. To be called aristocrats, companies must, among other things: have a market cap of at least $3 billion, and have increased dividends every year for the past 25 years.
Dividend mutual funds and Dividend ETFs, are index funds that give investors access to a number of dividend stocks – essentially, a portfolio of dividend stocks. These funds pass along dividends for all the companies in the fund.
Pros and Cons of Dividend Investing
Pros:
Earning dividends allow investors to generate portfolio returns without selling any shares.
In general, dividend paying firms tend to be more established, mature companies, allowing more risk-averse investors to keep tabs of their overall investment risk level.
Dividends that are reinvested, through DRIP programs or manually, can increase an investor's stake in the companies they own.
Cons:
Companies that pay dividends, especially high dividends, may be less likely to generate business growth for the benefit of shareholders.
Dividend rates are often below the level of inflation and, as such, investors may not be receiving any real rates of return from dividends.
Some degree of moral hazard may accompany dividend investing, with investors less inclined to closely investigate risks of companies they naturally think are high quality.
How To Invest In Dividend Stocks
Here are the four steps an investor needs to take in order to start dividend investing:
Step 1: Open a Brokerage Account
These days, opening a brokerage account online is easy and takes just a few minutes.
Step 2: Fund the Brokerage Account
You can do this by connecting it to your bank account. It may take a few days for the financial institutions to verify your identity and authorize the transfer of money.
Step 3: Buy a Dividend Stock
Choosing the right stocks for your portfolio is rooted in understanding your investment goals, knowing your risk profile and being honest with yourself about your comfort level with the specifics of certain industries and companies. Focus on a number of dividend-paying companies in an industry you understand, and then choose your preferred one.
Step 4: Collect the Dividend
You must own the stock as of a certain date (the record date) in order to be eligible to receive a dividend payout. If growing wealth is the goal, then reinvesting that dividend and taking advantage of the power of compounding is your best bet.
Bottom Line
In real-life investing, multiple variables influence how much wealth an investor has at retirement. Returns do not simply accrue at the same rate annually and taxes and fees furthermore impact what an investor actually nets. Still, steady, patient investment in dividend stocks over years can create financial security and generate passive income through the power of compound returns. However, dividend stocks are not without risks, and investors may suffer significant losses even from bellwether dividend-paying companies.
This article was written by
Davíd Lavie is a writer and editor with two decades' experience in marketing communications, equity research and publishing. In his writing for Seeking Alpha, Davíd specializes in educational content. His articles have been published on financial websites including Forbes Advisor, Yahoo Finance, Business Insider and Robb Report. Davíd is a founding partner in Quartet Communications, where, as Head of Creative Content, he helps clients set their work apart by focusing on brand, audience and voice.
Analyst's Disclosure: I/we have no stock, option or similar derivative position in any of the companies mentioned, and no plans to initiate any such positions within the next 72 hours. I wrote this article myself, and it expresses my own opinions. I am not receiving compensation for it. I have no business relationship with any company whose stock is mentioned in this article.
Seeking Alpha's Disclosure: Past performance is no guarantee of future results. No recommendation or advice is being given as to whether any investment is suitable for a particular investor. Any views or opinions expressed above may not reflect those of Seeking Alpha as a whole. Seeking Alpha is not a licensed securities dealer, broker or US investment adviser or investment bank. Our analysts are third party authors that include both professional investors and individual investors who may not be licensed or certified by any institute or regulatory body.